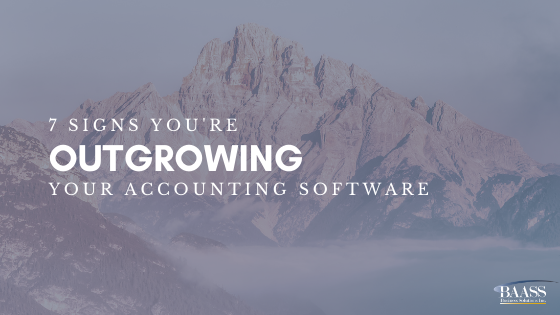 Nowadays, accounting software can be found in organizations of various sizes. After all, technology has significantly evolved and has since become an essential aspect of managing your business. However, as your business grows, the inevitable may happen - your accounting software simply isn't enough. Whether it be due to changing external factors or internal needs, it's essential to recognize when it is time to move on.

With the many enterprise resource planning (ERP) systems out there, there is no one size fits all depending on the stage and nature of your organization, you may need different accounting software. Once you outgrow that system, it's time to consider a new one in order to eliminate time-consuming and error-prone tasks. As such, organizations nowadays are rapidly outgrowing their accounting systems and find the need to plan for a new one every few years. Here are 7 signs that you've outgrown your accounting software:
Manual Processes & Lack of Efficiency


Technology has become a tool that allows us to be more efficient in handling various tasks. If you're finding that you've been spending too much time on manual data entry or paperwork, it may be a sign that you've outgrown your business management system. As with manual work, there is also a heightened risk of errors.

As such, it's essential for your accounting software to be able to keep up with your company's increase in growth. Whether it be by saving time on data entry and reconciliation or having automated and streamlined business processes, many have relied on the accounting software to increase efficiency throughout their organization. With a new accounting software that can handle your business' needs, time that was previously spent on repetitive and manual tasks can now be spent elsewhere.

Lack of Visibility Across Your Company


As your business grows, it becomes more difficult to keep track of what's happening across your organization. With key employees being in and out of the office and spreadsheets all over the place, it can be exhausting trying to find some information. In addition, your business's pile of data will only keep growing.

With accounting software more compatible with your needs, you can expect to have access to information instantly, across various areas of your organization. This also means having access to more accurate real-time data to base decisions on. An ERP Solution gives significant insight into things like financial management, reporting and forecasting while a warehouse management solution can offer additional insight into things like stock levels and inventory management.

Software Incompatibility


In tune with the last point, as your organization grows, you may find yourself leveraging multiple systems for various purposes. Software solutions such as CRM and HRIS can benefit your organization and specific departments in numerous ways. In addition, more and more organizations are beginning to adopt different software solutions.

With the many sources of information, there is an increased risk of incorrect information, as well as the need to manage data across these sources. Having your systems integrated will make information more centralized, increase visibility across your business, and enhance organizational efficiency.

Compliance Issues and Requirements


Finding that you're facing difficulties maintaining levels of compliance? Some industries face specific regulations that can be costly to uphold. If you're finding that your organization is spending too many resources to remain compliant, it may be a sign that you've outgrown your system.

Furthermore, you may be finding that your current system isn't able to handle the accounting needs of your organization. As transparency becomes more important and compliance becomes more complex, having a system that can handle these issues will alleviate your burden.

Too Many Spreadsheets


While there is no denying the capabilities that spreadsheets hold, they are prone to errors, difficult to maintain, and hard to keep track of. If you're finding that your organization is beginning to rely heavily on spreadsheets, it may be a sign that your current accounting system is not meeting your needs. An adequate accounting system should be able to handle organizational needs, without external supplements such as spreadsheets.

Lack of Support and Capabilities


As systems age, you may find that there is less support for it. Whether it be because the publisher has begun to stop supporting the products completely, or are hoping for you to upgrade to the latest version, you may be forced to embrace a new accounting system. Although you may fear the implementation or adoption process of a new accounting system, there are risks to sticking to your old one, and it can be costlier to maintain.

In addition to the lack of support you may receive, you'll find that your system can be quite outdated in terms of capabilities and security; due to the advancements in technology, this can mean large gaps between your legacy accounting system and the newer ones on the market.

Incompatibility with your Employees


Whether it be due to new management or younger employees, your old accounting software may be simply incompatible with the new demographic. Consider an older accounting system that doesn't support mobile work in the current day. For employees that are working from home or are constantly on the go, this can be a huge problem that hinders workflow and efficiency.

Not only so, but with the new workforce having grown up using technology, outdated interfaces may not be very user-friendly, despite having served the older generation of employees well. Moreover, new management teams accustomed to using sophisticated accounting systems at past workplaces may want to adopt them at your organization to foster growth after witnessing the benefits that can be reaped from a more modern system.
In Closing

If these signs sound familiar, it's likely that your current accounting system is not enough- you've outgrown it. As your business evolves, it's important to have an accounting system that can change with it and serve your various needs. Sticking with an old accounting system may be holding your company back in terms of both time and money, threatening organizational growth.
Adopting a new accounting system is an opportunity for you to boost your organization's competitive advantage to new heights. Every now and then, it's essential to review your current accounting system against your business' needs. With accounting systems being more capable and sophisticated than ever, it may just be time to consider a switch!