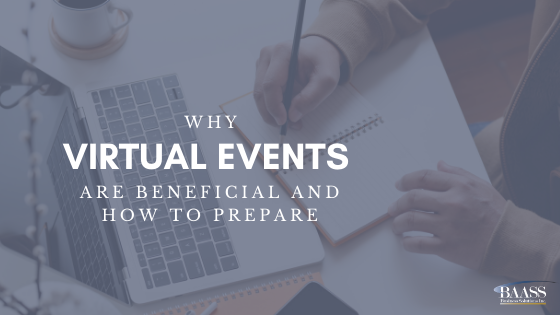 Over the past few years, virtual events have gained traction as an alternative or add-on to in-person events. With social distancing still in place, virtual and on-demand events are becoming the new normal and method of delivery by many Organizations.
Although physical interactions are no longer present, there are a number of reasons why virtual events are beneficial - and in some areas more beneficial for you to attend. In this blog, we will share the benefits as well as steps to prepare to get the most out of your attendance.
Why Virtual Events Are Beneficial
Savings
Attending events virtually saves time, money, travel and more. Virtual events give the opportunity to save money on things like hotel accommodations and additional pricing for food.
In addition, many businesses are currently offering their events and expertise for free or at a minimal cost to get their customers and prospects engaged. These events save time by limiting the amount of travel and time spent moving locations within conferences and sessions. If you are not finding value in a session, you are able to wait until the next or switch to another.
Accessibility
Gain valuable knowledge from subject matter experts while never leaving the comfort of your home. Virtual events give you the ability to view presentations and other content directly from your device of choice, giving you the flexibility to attend from anywhere.
There are various features within online hosting platforms such as the ability to submit questions, chat boxes, raising hands, polls, downloads, links and more. These help you to get the most out of events by engaging and learning in multiple ways. In addition, virtual events give more accessibility to presenters allowing you to ask your questions directly with a greater chance of them answering; as opposed to an in-person conference where you may not have the opportunity to speak with the experts directly.
Recordings
More often than not, event sessions are being recorded and hosts will send these recordings out after the event is completed. This can be beneficial to go back and clarify what was discussed, share with colleagues, as well as keep for later use.
If you are interested in a session but have a conflict in your calendar making you unable to attend live, recordings give you the ability to watch the presentation at a later date. Although recordings will not allow you to interact with the presentation, you will usually still have access to the Q&A period to see if your questions were answered. If not, reaching out to the company directly with any unanswered questions is important; you want to get the most out of your time.
Session Options
Online events regularly have a large range of sessions giving you the option to register for everything you are interested in. When attending an event at a venue there may be two sessions you are interested in but they are held at the same time. Unlike in-person conferences, where you are unable to be in two places at once, online conferences give you the ability to leave one session to go to another without disrupting the room; or as mentioned previously, have access to recordings for a later time.
Opportunity for More Staff to Attend
When sending individuals to an event it costs the company money, and a lot of the time can be difficult to see enough value gained for the resources allocated. Online events give attendees plenty of options for spreading out and collectively attending multiple sessions and networking opportunities.
Since there is a decrease in time and money spent when attending virtual events it is easier to see the value in what employees are learning, while gaining the ability to share the recordings and content in what was found to be of strong value.
How to get the most out of a virtual event
Now that we understand why virtual events can be beneficial to attend it is important to take the time to understand what you can do in order to gain the most value. Try these simple tips below to prepare yourself and gain confidence that you are not missing out on any opportunities or information.
Add the Event to your Calendar
When registering for an online event it can be easy to forget when the day arrives, often companies will send out reminders, but these emails may be sent to your spam folder. To avoid missing the event add it to your calendar when you register and set reminders to log into sessions. Adding the event to your calendar also let's your colleagues know you are unavailable during these times; helping to avoid scheduling conflicts.
Check your Email
After registering make sure that you check your inbox and junk. If you find anything in your junk make sure to mark it as not junk and as well as add the sender as a contact, this will ensure that you will receive all emails. Companies often will send information about the event, tips, or any assets that they have available prior to and after the event.
Prepare Questions
When registering for events you are often able to read details about the sessions; a way to get the most out of the event is to come up with questions prior to and during sessions. Even if your questions are non-specific it is a great way to expand your knowledge and start a conversation within the event; potentially opening doors for other attendees with related questions.
The other great thing about virtual events is there are often surveys conducted on your experience, this gives another opportunity to think of anything unanswered or identify what you are interested in/ would like to learn more about.
Be on Time
It is important to attend sessions on time and check the event website for these details; often the first few minutes outline what is going to be discussed as well as housekeeping for questions and more. This time allows you to confirm that you are in the right session, know how to use the features available to you, and give insight into the key value and takeaways to be expected.
Logging in before the session begins is also a great time to test that you can hear and see the presentation, in the case that you are using audio you can use this time to test your microphone.
Engage in the Sessions
It is important to stay engaged during the sessions you attend, be sure to participate in any polls or activities the host asks/or provides. Virtual events often have a mix of live streams and pre-recorded videos so it is important to pay attention during these virtual conferences to ensure you are not missing any important takeaways. Check if the event has any hashtags dedicated for social channels, to see what other attendees are talking about and engage online - this is a great way to expand your social networks.
Networking opportunities during this virtual space can be beneficial, especially for shy or introverted people; giving the ability to attend, observe, and get to know people without being quite as social or forward as you have to be at in-person events. In some cases the host of a virtual event may include breakout sessions to keep attendees engaged; encouraging their attendees to communicate and network in real time rather than after the event has concluded.
Take Notes
Taking notes on the things that stand out to you and what you've learnt is a great way to benefit from attending. It helps you to look back on what was discussed without having to watch the full recording as well as gives a summary of key takeaways for people that were unable to attend.
When the virtual event has ended it can be simple to slip back into day-to-day routine. However, to gain better value we encourage giving yourself time to reflect on what you learnt in the session and what you would like to learn more about.
In Conclusion
There are a number of ways to leverage your virtual event attendance in order to maximize time, sessions, networking, and more. Take full advantage of what the virtual event is offering by committing time to attend, participating in discussions, joining social events, and sharing your knowledge with colleagues, friends and family.