Features & Benefits
Set Up Custom Pay Rules
You are able to setup company, department or individual pay rules for shifts. You can create standard or custom shifts, setup descriptions and lock in expected start and end times.
This customization will bind the earning codes in your Sage Payroll information, for added standardization across your payroll process.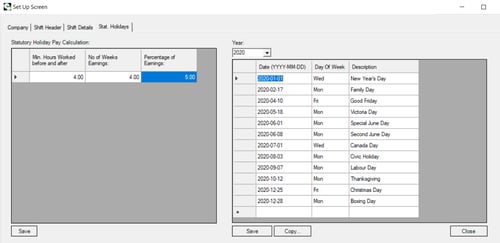 Streamlines Calculations + Holiday Pay
With this tool you can setup calculations for overtime and double time easily. This calculation can as simple as being based on a single shift or more complex, with being based on a combination of shift and days of the week.
The solution can also handle Holiday Stat Pay calculations, whether it be based on a percentage or minimum hours worked prior to the holiday.

Fully Integrated with Sage
After you have imported the information into your Sage Payroll,
you can have a final check on the calculations and Holiday pay. You can even check if the employees have the proper earning codes assigned prior to importing to Sage Payroll.