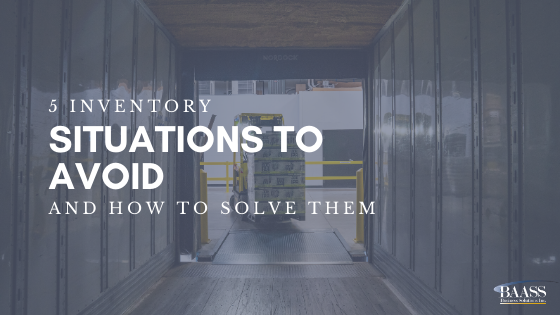 Inventory. The word alone is enough to invoke feelings of panic and anxiety in even the most level-headed warehouse manager. Keeping up with inventory demands is a full-time job, one that many managers perform in addition to managing the warehouse. Because warehouse managers do not have an abundance of time to dedicate to their inventory situations, many companies suffer in the area of inventory management.
Unable to dedicate the time and resources required to manage inventory effectively, inefficiencies often appear. These inefficiencies extend their reach beyond the warehouse, impacting various areas across the business. Take a look at the following common inventory situations, and see if you can relate:
You have too much inventory on hand, leading to wasted cash.
You are constantly experiencing inventory shortages that lead to stock-out situations, resulting in customer dissatisfaction, lost customers and missed revenue opportunities.
Your inventory numbers are inaccurate, leading to inaccurate balance sheets. This has the potential to impact your company's credit and financing.
You are experiencing longer lead times, prompting an increase in the cost of a sale and reduced cash flow due to delayed revenue recognition.
You require substitutions in order to fill orders on time, leading to added labor costs, an increased return rate, and poor customer satisfaction.
Inventory management solutions bring visibility back into the warehouse
The most common cause for the above issues is a lack of visibility in the warehouse and across the company. Poor visibility can lead to greater problems down the line and significantly impact the bottom line. All of these inventory inefficiencies can be avoided through the implementation of an inventory management solution.
Inventory management technology, such as barcoding solutions and special inventory management software, can help companies see the whole inventory picture. Companies can be alerted of inventory shortages before they occur, allowing them to order inventory in time to meet product demand and satisfy their customers. Barcoding technology enables companies to automate data entry, ensuring that the data being inputted into the warehouse management solution or ERP system is accurate and reliable. This gives warehouse managers peace of mind, allowing them to focus on more pressing warehouse-related issues.