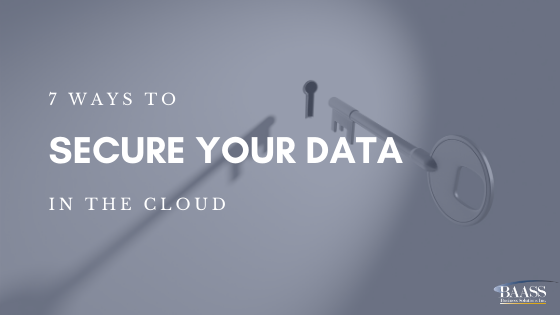 You would be hard-pressed to find a person or a business today that doesn't use the cloud. Several businesses today are using the cloud with tools, software, storage or communication. With the increased usage of the cloud - data security is especially important.
What is the cloud and how does it work?
The Cloud is a remote location where your data is stored. The data is stored on a series of servers located elsewhere which are accessed remotely. These cloud servers are housed in data centers and can be found all over the world.
How to secure your data in the Cloud
Regardless of the type of cloud services your business uses, the security for all is still the same. Here are 7 important factors when looking to secure your data in the cloud.
1. Encryption
The first way to mitigate security breaches is to use a cloud service that encrypts your files both on your local computer and in the cloud. By having two layers of encryption it protects your data both from service providers and administrators of the service.
2. Set Strong Passwords
Your password is the key to your house - you would not just leave it anywhere lying out with your address attached. I suspect we have all written a password on a sticky note at one point in our lives. It is ever important to break that habit and ensure you are doing your part to not be the cause of a breach. More than 75 percent of attacks are due to weak passwords, which means you must be diligent when creating yours.
Tips for creating a secure password
Make sure your password is at least eight characters in length
Avoid using identifying information such as your name, birthday, company name or the names of people or pets you are close to.
Never create a password only with letters.
Mix up the characters you're using - upper and lowercase letters as well as numbers and symbols.
Avoid using the same one for multiple accounts.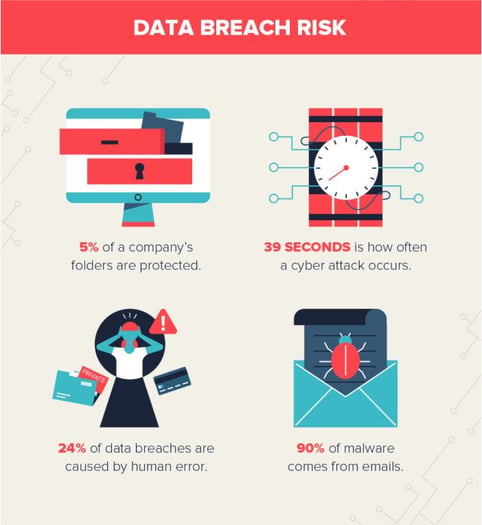 3. Setup Two-Factor Authentication
The two-factor authentication (2FA) tool is an extra layer of security that can prevent hackers from obtaining your password and accessing your data. When you utilize 2FA, the tool will require you to take an action on a separate device to grant access to the account after your password is used. This will ensure that if someone does get access to your password that your data is still protected.
4. Have a Backup
Even when storing data in the cloud it is imperative to have backups. Ideally, both stored locally and in one or multiple cloud services depending on the type of data. You can work with a cloud expert to determine the level of redundancy you need and the schedule for those backups. For example, BAASS uses our Hosted Cloud service which has several levels of backups and redundancies set for our data. By having backups you reduce any downtime should there be any issues with your data in the primary location.
Want to learn more about cloud hosting and how it can help secure your data?
5. Setup Role-Based Access Control
The cloud solution you are using should be able to provide role-based access control to ensure the correct user is accessing only the files they need to. By having stringent control of the access levels it can provide an additional level of protection should a user's account be breached.
6. Make sure to Read the Fine Print
We have all glossed past the terms and conditions agreements in software before for personal use. It is extremely important to never sign up for cloud service without reading the user agreement completely. This document includes vital information about how the service protects your information and whether you give permission for them to use or sell your information in any way by signing up. Also, ensure to read any updates when the service provider updates its privacy policies.
7. Educate employees
Cyber-hygiene and security training should be a requirement for all employees. The consequences of data breaches are higher and higher these days. These risks to your company should be fully discussed to ensure your employees understand what is at stake. Other topics that are recommended assistance with device usage, phishing and email scams, standards and protocols for accessing data, and passwords.
To learn more about 12 ways to ensure you're secure.
Key Takeaways
Human error and inadequate data protection do not have to be the cause of a security breach at your organization. By following these key areas, whether you're looking to move to the cloud or already have your data in the cloud you can know you and your employees are doing their part to keep the business data secure in the cloud.
Looking for more information on the Cloud?
If you are looking for assistance with implementing a cloud solution or ensuring your cloud is secure, reach out to a BAASS Cloud expert today.