The world of finance operations is stressful, why not eliminate some problems that are causing your team stress. Accounts Payable (AP) tasks can become undeniably stressful. Dealing with manual error and hours are spent sorting through piles of paper invoices. Take control of your financial data with AP automation.
In this blog we will discuss how AP automation can save your business time and money. While enhancing your interactions with partners, suppliers, and customers.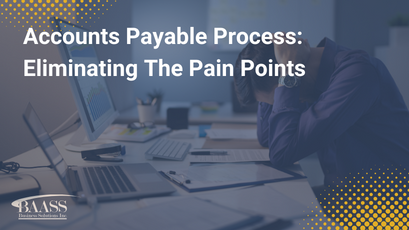 The Pain Points in Accounts Payable
Manual Data Entry: Making calculated financial decisions can only be performed if financial data is collected accurately. 41% of financial professionals blame inaccurate financials on manual data entry. AP professionals are wasting valuable time correcting human errors that result in missed payment deadlines.
Complex Approval Process: 20% of AP professionals spend their time managing approvals. Intricate web of approval workflows can result in bottlenecks and significant delays due to the need for multiple signatures from various stakeholders.
Lack of Visibility and Control: 49 % of finance executives say they are not confident in the accuracy of their financial data. Lack of invoice management can cause uncertainty to whether invoices have been approved or paid. It's important for AP professionals to have full visibility and control of their invoice reports to help track spending patterns, vendor performances, and potential cost-saving opportunities.
The AP Automation Solution
AP automation is a beacon of relief amid the stressful landscape of finance operations. This solution is a powerful tool that helps businesses stay ahead of the competition. AP Automation can help your company achieve the following.

1. Streamline Financial Operations: AP Automation addresses inefficiencies like manual data entry and human errors prevalent in traditional AP processing.

2. Heightened Operational Efficiency: AP automation expedites the approval cycle by slashing the need for manual interventions. This frees up valuable time for staff to focus on higher-value tasks, boosting overall productivity.

3. Tangible Cost Savings: By automating processes, organizations can reduce overhead costs related to manual invoice handling, error correction, and payment schedule.. Operational savings can be redirected to growth initiatives.

4. Enhanced Financial Visibility: AP automation provides real-time, transparent insight into financial obligations and transactions, enabling proactive decision-making and strategic planning.

To further understand the functions of AP Automation watch a clip from our recent webinar called "Soothing Your AP Pain Points", presented by BAASS Business Solutions and Quadiant.
Selecting and Implementing AP Automation
Selecting the right AP automation solution requires considering factors like company size, vendor credibility, and potential for scalability. While acknowledging transitional challenges and future technological advancements.
The Road Ahead
The landscape of Accounts Payable is evolving rapidly, driven by technologies like AI and Machine Learning. These innovations are reshaping AP processes, ushering in greater efficiency and accuracy.
We encourage our readers to explore AP automation solutions and stay updated on industry trends. By embracing these advancements, you can prepare your organization for a more efficient and technologically-driven future in finance.
Conclusion
In the realm of finance operations, Accounts Payable (AP) pain points have been alleviated by the power of automation. AP automation isn't just a lifeline; it's a game-changer. It streamlines financial operations, heightens efficiency, and brings tangible cost savings to the table.
If you are interested in learning more about AP Automation speak with a BAASS expert today. Your journey towards success begins today!