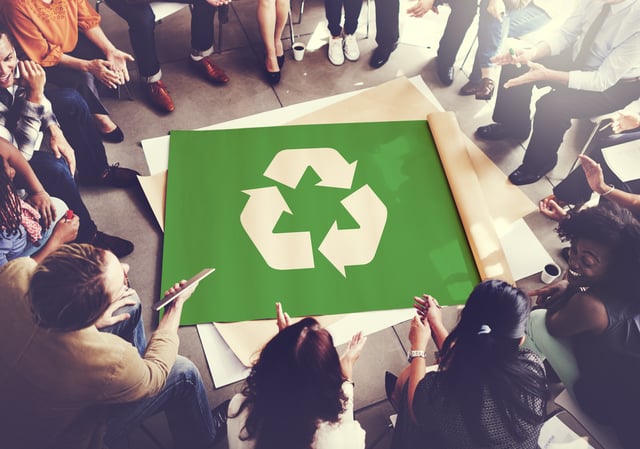 Green is most definitely the new black in today's world. Finding ways to preserve the environment while conducting day-to-day operations can be tricky and expensive. Updating equipment to eco-friendly options and implementing green tools leads to company capital being spent on fixed assets that are multi-functional. This requires managers to ensure that new assets are both useful to the organization and friendly to the environment.
Whenever a company invests in fixed assets with specific goals, charting expectations and daily performance provides insight into implementation. Companies should use these three asset management strategies to create a greener and more efficient office:
1. Make informed decisions on new equipment
There are a variety of fixed assets a company may obtain if it wishes to create greener operations. Manufacturers may replace outdated machinery or invest in simpler tools after streamlining production. Any company that owns real-estate can employ sustainable energy resources like solar panels. Organizations can also look into new solutions for heating, cooling and waste management.
Companies must compare the costs of new assets to the profits gained from eco-friendly operations. Being energy efficient is better for the earth and reduces energy bills. Running equipment for shorter periods of time decreases depreciation. Consider investigating tax breaks tied to green purchases and look into whether or not your state offers tax holidays for eco-friendly buying. Don't forget, the impact good public relations can have on your organization profits.
Accountants must record profit projections when in the market for green assets. This information helps businesses negotiate with suppliers. When replacing one tool for another, it's important to have a complete log of asset utilization so managers know exactly what new machinery should accomplish or improve upon.
2. Monitor new routines
If your business begins utilizing greener fixed assets but doesn't see the rewards it was expecting, the problem could be daily use. New business plans never succeed if employees are not on board with ideas and best practices.
Companies that implement new equipment and manufacturing schedules to reduce energy consumption need to ensure workers stick to timetables. Managers need to communicate the importance of new strategies to employees and provide them incentives for greener performance. Outside of the environmental benefits, businesses can make new routines simpler with efficient tools.
For example, asset tags and barcode scanners allow employees to report daily activities with a click of a button. Regular data collection solutions provide managers with oversight of green projects and demonstrate how workers actually use assets. If there is a problem, managers can check in with staff before bad habits develop.
3. Initiate paperless asset management
Barcode asset management solutions eliminate the need for pen and paper checklists. Going paperless is not only greener, centralized asset management systems help managers and accountants stay on top of eco-friendly solutions.
Even when companies implement a single asset for green practices – like solar panels on the roof – it's a chance to reorganize company practices with the environment in mind. Digital tools and fixed asset software solutions streamline communications so businesses don't have to waste paper. Quicker data exchanges between departments also prevent employees from performing uniformed practices that waste resources because staff initiates projects with outdated data.
Simplifying asset management makes it easier to practice leaner operations. Efficiency is almost always greener because it cuts down on waste. Complete data oversight of assets and simple accounting solutions allow companies to monitor actual depreciation of assets so companies can practice smarter turnaround procedures. A company can create more accurate depreciation schedules and get the best useful life out of materials. Improving ROI on assets is great for a business's bottom line, and avoiding utilization of inefficient or broken down tools is good for the environment.
Could your company stand to improve its fixed assets management situation? If so, you are not alone.
The tracking and reporting of fixed assets is one of the most commonly overlooked areas in business management today, with many companies doing the bare minimum to meet tax requirements. What these companies fail to realize, however, is that improved fixed assets management can yield substantial tax savings in depreciation deductions.