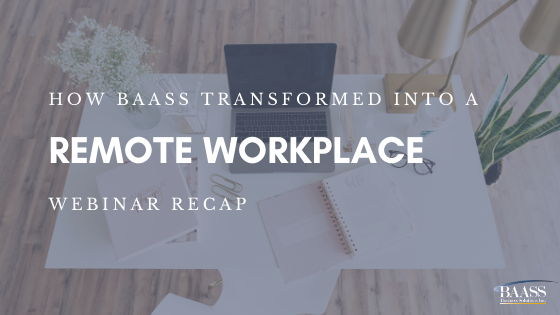 This blog is a recap of our recent webinar How BAASS Transformed into a Remote Workplace. It will focus on how to enable, accelerate and provide work from home access for employees. Jamie Smith the president of Lanetco Computer Networks Inc. answered the common questions asked by our customers: what is BAASS doing right now? And how have they transformed into a remote workplace?
Lanetco Computer Networks Inc. runs the infrastructure and IT division for BAASS Business Solutions. Operating out of the same office as BAASS, Lanetco is a full IT and MSP (Managed Service Provider) support company. Lanetco manages The BAASS Cloud, hosting and much more.
BAASS decided that they needed to implement access to and support a remote work environment because of various locations, departments and a large scale of staff. This enables BAASS employees to communicate, collaborate, schedule, file share and more. Anything suggested by us is what we have implemented in our organization.
Many companies required the ability to work from home on March 16th and forward due to the COVID-19 pandemic. As such, we decided to share what exactly BAASS is doing and what tools we are using. Hopefully, this will help ease your transition into a remote company.
Some commonly asked items for work from home:
Access to ERP and CRM (PSA tools)
File sharing - for templates and forms
Communication tools - phone, chat, email, and a way to host meetings both internally and externally
Hardware
ERP and CRM
These line of business applications are important to have access to while working remotely. BAASS uses Sage 300 and Sage CRM as our professional service automation tools. This allows us to track customers, marketing, sales, service, BAASS Customer Care Membership (CCM) Plans, tickets, and other aspects to run the organization.
How do remote employees have access to these tools? BAASS uses a remote desktop to access these systems any time and anywhere as long as there is a computer and internet connection available. The remote desktop is accessed through an icon added to each employee's computer screen. When clicked, it will redirect to a private cloud-hosted environment, where they will need to fill in login credentials.
On this desktop we can access our Sage ERP and CRM the exact way we would when it was on-premise. BAASS has already had this method implemented. So, when remote work became a necessity, nothing needed to be changed; all employees were able to access their regular desktops from home.
File Sharing
For file shares and file access to documents from the Microsoft Suite (Word, Excel, Powerpoint etc.) and PDFs, BAASS uses a cloud-based file share solution. There are various file share solutions available such as Dropbox and box.com, however, BAASS uses Microsoft Teams.
Microsoft Teams is an additional license to Office 365, allowing employees access to the file share tool. BAASS has deployed Microsoft Teams, Sharepoint and Office 365 internally on each employee's computer. This gives them access to all files and templates, as long as they have an internet connection. Microsoft Teams also enables employees to collaborate and edit documents in real-time.
An example of file sharing within teams can be seen below.
Communication Tools
BAASS' biggest concern was the ability to:
Provide

support

to customers
Being able to answer the phones and operator lines
Have face to face meetings
These are especially critical during the COVID-19 period with 100% of staff working remotely. As a very fast-paced, detailed oriented organization, access to staff and the rapidness was extremely important. In addition, it's essential to have the ability to host internal and external meetings all without having to compromise the security.
Phone
BAASS uses a VoIP PBX (Private Branch Exchange) enabling us to answer our calls through the internet. This makes it much easier than having our system only available on-premise at our office locations. If you are currently using an on-premise phone system, consider looking into hosted phone systems and VoIP PBX. This can enable remote working, as well as accessibility.
Chat
BAASS has replaced many internal email communications with chat, allowing us to communicate instantly with quick responses rather than flooding inboxes. Not only does Microsoft Teams allow your organization to share and access files remotely, but it also has built-in communication and collaboration tools. This will help you work better together and stay informed. Microsoft Teams has allowed BAASS to set up chats dependent on groups, departments and projects, on top of the ability to reach out to individuals directly.
Video Conferencing
For internal meetings and video conferences BAASS uses Microsoft Teams, this is due to the accessibility within instant messaging to turn chats into calls and vice versa. Microsoft Teams also gives the option to share screens for quick tutorials, or navigation.
For external meetings and conferences with customers and prospects, BAASS uses Go to Meeting/Go to Webinar. This is because the Go To platform offers conferencing lines to call into if someone does not have computer access. This platform also gives us the ability to record meetings as desired, so we are able to relisten and forward these recordings to participants as needed.
Hardware
We will not dive too deep into hardware, however, BAASS provides laptops out to all staff. We suggest thinking of using laptops, rather than the "old way" of desktop PCs.
This is because laptops give employees the ability to pick up the physical device and take it where they need to go. Employees as such have greater flexibility. It also avoids employees having to use personal devices to complete company work.
Conclusion
These are the tools that have enabled BAASS to smoothly shift to remote work full time. We also highly suggest that security should be looked at closely while allowing employees to work remotely. This can include multi-factor authentication and complex passwords, which ensure your business is the only one able to get into your data and documents.
Talk to your IT team about what they are able to implement to ensure security and reliability. Our webinar on 12 Ways to Ensure You are Secure is also available for some helpful tips.
If you want to learn more about how we use Microsoft Teams at BAASS register for our webinar recording Stay Productive While Working Remotely With Microsoft Teams.
As we navigate the pandemic and into the future, many organizations are considering hybrid models. This includes employees making partial returns to the office space a few days a week. Whether employees are working in the office or become fully remote workers going forward, it's important to consider the best working models for your organization.