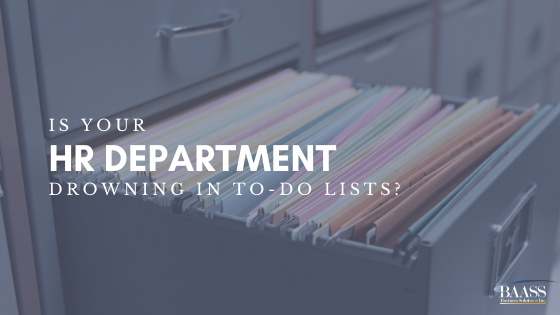 When was the last time you looked at your human resources (HR) department to evaluate processes? Are all aspects of your organization functioning at optimum capacity, or are you barely getting the most important tasks accomplished? While it may not seem as important as finance or sales, human resources management plays a significant role in your business. Ineffective processes within the HR department can impact other areas of the organization, hindering your business' productivity and efficiency
Is your HR department struggling to complete tasks? If so, it is time to take an honest look at your processes and the technology you are using. Your HR department may be consumed with completing job descriptions, background checks, and creating job postings.
Most organizations invest very little into HR, assuming that it is a department that can manage itself.
In reality, the HR department needs as much automation and technology as any other department. Could your sales department survive on spreadsheets, Outlook calendars and Word documents? Transition your HR department away from relying on tasks lists to perform administrative functions, training, and development. This can help your HR department increase efficiency.
Take a look at the situations below and see if you can identify with any of the following:
You are spending too much time on daily tasks and are unable to devote any resources toward future or strategic planning
You are running out of room to store important paperwork and documents
You keep track of training, benefits, workplace accidents, and disciplinary warnings using a variety of software applications
Sharing information with key decision-makers is difficult as you have to track down the data and create the necessary reports
Communication between departments is hindered (if not nonexistent)
Human Resource Information Systems are Key to Checking Off Important Tasks
If you identified with any of the above situations, it is time to reevaluate your HR processes and technology. Human resource information systems (HRIS) can help your company streamline daily HR tasks. This way, your HR managers can focus on more important projects: hiring processes, providing training, and more. Here are some of the benefits gained from adopting an HRIS system at your organization:
Increased Productivity – The most obvious benefit that HRIS can provide is increased productivity within the HR department. At the most basic level, time is saved when processes such as payroll and benefits are automated.
Employee Satisfaction – Leveraging HRIS software that can handle mundane, time-consuming tasks can boost morale in your HR team. This can also contribute to creating an empowering work environment. These tasks can include benefits administration. HRIS can automate benefits administration, allowing your HR managers and employees to focus on other department responsibilities.
Improved Efficiency – Mistakes happen, and unfortunately, it is inevitable. When mistakes happen within the HR department it can result in both financial and legal complications. Implementing a human resource information system can automate common processes such as payroll. This results in reduced errors and lowers the risk for the entire organization.
Compliance – In addition to mitigating human error, HRIS can keep you compliant with federal and state-mandated laws. HRIS reduces the stress behind keeping up with changing laws. An HRIS solution can help your organization maintain, store, and track necessary employee-related paperwork. This will help your organization to better comply with employment laws and labour laws.
Making Strategic Decisions

– Human resource information systems usually include metrics tools. These tools will allow you to get a broader look at your business. You can see the big picture when it comes to turnover rate and the costs involved with onboarding new employees. This will result in the ability to make well-informed, strategic business decisions.
A human resources department that can function effectively on its own is important to a company's future and growth. In order to sustain growth capabilities, you must have the right technology to eliminate time-consuming tasks. This way, you can focus on the most important details. At BAASS, we understand the importance of your HR department and the need for capable technology to support its functions.