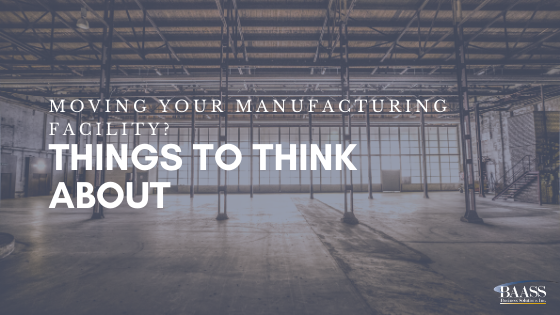 Companies seeking to maximize profits must keep in mind many things. For manufacturers, it's not just the cost of raw materials that impacts profits. It's the costs of labor, taxes, shipping and more. Manufacturers must also weigh the pros and cons of the location for their operations very carefully before making the decision to set up operations or relocate. For example, shipping costs can steal profits away from thin margins.

These and other considerations are what keeps manufacturers up at night. Fortunately, by balancing the pros and cons of all of these factors, you can make a sound decision.

We've also put together the following list of considerations to help guide you through the process of relocating or starting up a new production facility. Add to this list your own unique concerns and needs, and you've got the start of a logical, streamlined process for assessing new places and spaces.

Manufacturing Locations - What to Look For:

Sector diversification: Areas with a more types of industries are considered more stable for new companies to build businesses in. Diversification weathers economic downturns better, as well as sector issues, problems, or drops.
Worker benefit costs: What are the costs of worker benefits? While many benefits are stable or government-subsided, offering an attractive benefits package to workers attracts the best workers. Consider the cost of these benefits when you're opening a factory or moving to a new manufacturing facility.
Tax climate: Taxes are often in the news, and seem like the most important factor when companies decide where to do business. But taxes are just one part of the equation.
Expected fiscal liability gap: The expected fiscal liability gap is a predictor of future taxation increases. A big gap means taxes may increase to cover pension plans or bonds issued for infrastructure improvements, for example. Knowing this can help you make a wise decision based on potential future directions.
Global reach: The level of international trade from within a province or area can also be an important factor when you're weighing where to move or start a manufacturing business.
Productivity and innovation: Knowing both the productivity and innovation figures for the area where you're hoping to relocate can help you choose areas where growth is encouraged. Productivity, or the measure of output per worker, varies greatly, but averages are telling. These areas offer the most opportunity for growth and profitability.
No one location will offer the best of everything. That's why it's important to weigh the pros and cons of each factor, noting which will make the biggest impact on your business. Some businesses care greatly about global shipping, while others who have a more local clientele do not need to consider this issue. For such companies, other factors like taxes or productivity may be important. A wise business owner knows his own issues and makes decisions based on what's best for his company and his workers.

Moving or Changing Manufacturing Location? - BAASS Is Here
Whether you're starting up or changing your manufacturing location, BAASS Business Solutions is ready to help you choose the right solutions for your data and information needs. We can help facilitate communications, data sharing, business intelligence, ERP and CRM, HR and more. Let's talk about your business needs. Contact us today for a consultation and more information about BAASS.