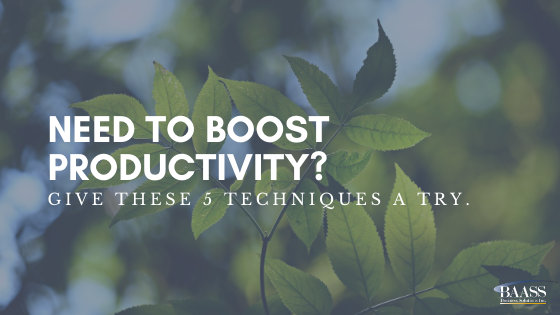 Professional service companies are always looking for ways to maximize productivity, but how? There's only so many hours in a work day that it is important to make the most out of it. To be more productive isn't difficult to achieve, but simply knowing how to effectively manage your time can go a long way.
Here are 5 methods that can be implemented across a wide range of industries to improve productivity and inspire greater efforts while at work.
Organize Workflows

Gantt charts are productivity-enhancing tools that can map tasks and workflow in ways that visual learners find appealing as well as making milestones and tasks very concise. Gantt charts are also great at helping you identify quickly who is responsible for each task, so you're all on the same page when it comes to a project.

By organizing workflows into tasks, assigned personnel, milestones, and timelines, you'll have a clear set of guidelines and shared understanding of what needs to get done. This alone can boost productivity. Printing out Gantt charts from your system and hanging them up where you can see it, consciously reinforces upcoming deadlines.

Set Up Reminders

Automated triggers are events that can be set up in many ERP and BI systems that automatically send messages when an action takes place. For example, an automatic trigger can be set up to prompt a report to be run, items to be ordered for the warehouse or other activities.

Automated triggers enhance productivity by reminding everyone on the team what needs to get done especially when there are a ton of other things that need to be remembered. With automated triggers, important tasks won't get lost among the sea of other deadlines.

Automate Invoicing

Who doesn't like to get paid faster? Set up automated invoicing for your clients and save yet another step during the accounting process. Automated invoicing can be set up so that bills are emailed to clients at pre-set intervals. Reminders and notifications can also be automated so that you can keep your cash flow flowing.

Integrate Your CRM

CRM systems, or customer relationship management systems, manage the communications flow among customers, sales, market, and services. When this is integrated with your company's systems, you'll have all the data you need to help your customers solve problems and answer their questions at your fingertips. The rest of the team will also have the same information, which prevents wasted time searching for answers that already exist. It's a great time-saving tool.

Automate Social Media Posts

Social media is now an important business communications tool. But it can take up a lot of time in your busy schedule to manage your social media channels, post engaging content, and monitor the sites for engagement. One way that you can boost productivity is to use a social media post scheduling tool. These tools enable you to pre-load content into one site that can be shared across multiple platforms. You can schedule the day, time, and channel where the posts appear. You'll still need to set aside time each day to check for comments and to answer customer feedback, but scheduling posts can shave off several minutes to an hour from your busy day.

It's All in How You Use Your Tools
Have you ever met someone who has a kitchen full of the latest gadgets and equipment yet orders takeout? That's a good example of someone who has all the right tools but doesn't utilize them to their fullest extent.
The same goes for companies who purchase great ERP, BI, CRM or other business systems. These companies have invested in wonderful tools, but if they fail to take advantage of all the time-saving features, they're back where they started. So get to know your systems. Use your tools. Increase your productivity and enhance your profits by using everything at your disposal for better business.
BAASS Business Solutions offers business intelligence solutions to help your business prosper. ERP, BI, CRM, and more are available to help you improve productivity and profitability. Please contact us for a consultation today. Contact us or call 1-888-650-5544.