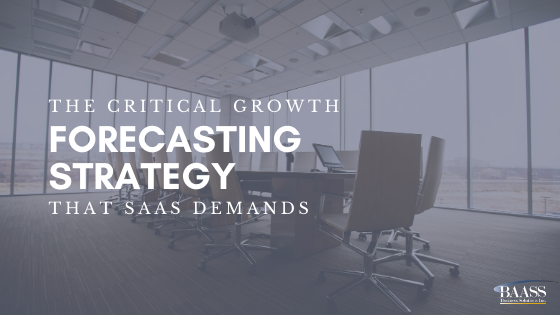 Historically, traditional software companies have solely relied on sales data to propel their profit and loss indicators, with forecasting closely driven by contract activity and sales estimates for that bench marking period.
However, recurring revenue software companies, or SaaS businesses, specialize in contracts of a different nature, yielding rapid growth from recurring subscription revenues, with a high level of retention and service add-on's, in addition to a continuous stream of new contract sign-up's.
For this reason, when SaaS businesses command growth direction, their forecasting metrics depend on more than just sales numbers. These businesses demand extensive financial and non-financial bench marking metrics combined.
Size Up Key Metrics
Privately-owned SaaS companies at start-up typically reflect a trend in rapid revenue growth rates, due in part to the initial boom of new recurring revenue accounts, and to an early investment focus on sales and marketing, especially for venture-backed firms.
Also, because SaaS businesses deal predominantly in subscriptions, they require more in-depth metrics and bench marking components based on monthly recurring revenues, subscriber numbers, growth rates, revenue per customer, new customer acquisition costs, existing customer maintenance costs, and the costs associated with retaining a scalable hosting platform.
By tracking these details from the start, SaaS companies fare better in the long-run by more accurately tracking predictability and by scaling with growth from the get-go.
Strategize with In-Depth Growth Bench marking
Because Saas companies are vulnerable to subscribers signing up and dropping off each month, these companies also need to access metrics around churn rates, (or the rate at which customers subscribe to a service) to calculate growth measures.
These rates rely on customer profile, industry, company size, and subscription deal size, so, when SaaS businesses build a forecast by subtracting customer churn, from recurring revenues and new growth, they can really see whether the business is growing profitably or not, and whether customer group targets are proving effective.
Track KPIs in Real-Time
SaaS businesses that attempt to forecast growth on shallow measures pooled from aging sales data, on-premises software, or static data spreadsheets, often struggle to get a real-time visual of their company position. Because these companies have many more moving parts than traditional software companies, on-premises systems fail to gather the necessary data that Saas decision-makers need to plot well-timed growth strategies.
However, when these companies move a strong software solution like Intacct, into place, their decision makers can drill down into fresh, comprehensive data, to get the most illustrative metrics needed, at any time.
A cloud-based comprehensive system offers these decision-makers the ability to quickly capture real-time KPI's from a dashboard outlining financial and non-financial bench marking data, customized into one big-picture, working desktop snapshot. This type of software solution brings teams together company-wide, to analyze metrics and bench marking measures based on real-time visibility.
BAASS Business Solutions
Discover the right tools for your company's data leverage. Our expert teams work with you to develop and implement solutions that get the most out of your metrics for strategic growth.
The cloud has indeed transformed many types of software, making them accessible and affordable for all. BAASS Business Solutions offers consulting and software for many industries and can help you choose from among a wide range of software products to help you manage your business efficiently. We will help you choose the best business intelligence solution for your needs. Contact us or call 1-888-650-5544.