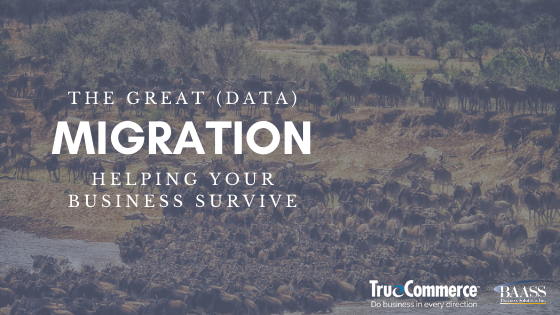 The African plains are dangerous, unpredictable, and home to millions of creatures. Some of these animals never leave their point of origin and are content to live a sedentary existence. However 1.7 million wildebeest (a member of the antelope family with a large, box-like head with menacing curving horns) undertake an arduous journey stretching hundreds of miles across danger-filled rivers and grassy plains. It's known as The Great Wildebeest Migration and it is necessary for their existence as they seek greener pastures to graze.
Like the wildebeest, businesses are continually searching for better solutions. Given the plethora of business solutions available, businesses will often turn to a trusted partner to help them navigate. For companies reliant upon Sage 300, one such trusted partner is BAASS.
Eliminating Surprises in the Journey
You are probably familiar with slow-motion clips of crocodiles breaking the surface of a murky watering hole and grabbing a surprised wildebeest. Of course, surprises in business aren't as dramatic, but the consequences of an unseen danger, a missed opportunity, poor planning, or inadequate training can hinder your company's journey. That's why it's critical to have a partner like BAASS, and by extension, access to their partner TrueCommerce.
Working with TrueCommerce can be a gateway to a variety of solutions that help you better sell your products, increase efficiencies, and avoid surprises. TrueCommerce provides you with best-in-class EDI, Pack & Ship, an inventory management solution, and eCommerce platform with connections to 100+ marketplaces delivered via a single interface integrated with Sage 300.
Protecting the Young
During migration, wildebeest calves are particularly vulnerable to attacks from predators. For companies in the early stages of exploring a new business solution, predatory sales reps often attempt to infiltrate and sell unnecessary services or misrepresent total ownership costs.
To protect their revenue stream, business leaders ought to rely not only upon advice from partners, but from independent software review sites like Capterra and G2 where you will find authentic reviews from users, as well as company ratings and reviews on the Better Business Bureau's website.
In addition, when researching a provider it's important to seek a company that demonstrates thought-leadership like TrueCommerce. One that continually develops and/or integrates new, innovative solutions that can be combined to satisfy the future needs of its customers rather than simply meeting current needs without a clear direction forward. Proven, future-oriented companies are often highlighted by industry analysts like Gartner and IDC.
The Destination is Not the End
Even after the wildebeest reach suitable grazing areas, the break from their journey is short-lived as the wet-season will soon return and they will begin the perilous but promising trek home.
For organizations, a managed services provider can help them navigate changes in their business environment so they can focus on the path ahead. That's why BAASS relies on TrueCommerce to not only deliver technical expertise to shared customers, but also for its flexibility to accommodate customers who are growing quickly.
"TrueCommerce has great people and it's always very easy for us to work with them," says BAASS President Joe Arnone. "We had one client that lost a major customer and they thought they would have to back out of implementing EDI. But thanks to TrueCommerce's flexibility in accommodating that client we were able to come up with a solution together – which was very helpful."
BAASS employees also utilize TrueCommerce for transitioning Sage users from legacy EDI systems, because TrueCommerce is experienced in providing integrations with approximately 30 ERP solutions, and has built implementation teams who are well-versed in in an array of business systems.

The Circle of Life (and Business)
Naturalists have spent years observing the migration of wildebeest, which has given them a substantial amount of data. However, they are still unable to definitively predict the timing and path of the migration. External factors like the amount of rain and grass growth ultimately guide the herd.
Likewise, marketers and data scientists face similar issues as changes in the marketplace hamper one's ability to successfully predict the future. BAASS and TrueCommerce each offer decades of experience in their own domain and together are helping provide customers with the right tools and resources to make sure they not only survive but thrive in their journey year after year.
To learn if working with a commerce network like TrueCommerce is right for you, talk to your BAASS representative today.