In today's data-driven business landscape, making informed decisions requires more than just raw data. It demands insightful, well-constructed reports that distill complexity into clarity. This blog explores the transformative power of BI report building and how well constructed reports can serve as a cornerstone for strategic decision-making and operational excellence.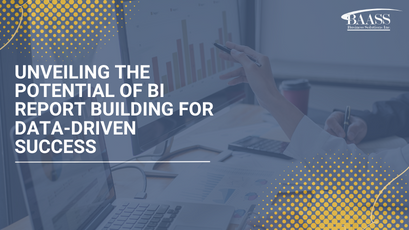 Introducing the concept of BI report building
Business intelligence, also referred to as (bi) is the process of extracting, analyzing, and presenting data from various sources within an organization. BI reports are designed to provide a visual concise overview of key performance indicators (KPIs), trends, and insights. The primary goal of BI reporting is to transform raw data into actionable insights that can guide strategic and operational decisions.
The Challenge of Crafting Effective BI Reports:
Turning data into organized and actionable insights can be difficult. Many businesses face difficulty in accessing and managing data from multiple sources. The vastness of data sources often leads to information overload, making the process of creating meaningful reports daunting. Businesses feel the pressure to assemble timely informative reports that resonate with various stakeholders.
Key Components Needed to Create Powerful BI Reports:
Effective BI reports incorporate key elements that enhance their impact:
Data Visualization:

Visual aids like charts and graphs translate intricate data into understandable patterns.

Interactive Features:

Real-time interactivity empowers users to explore data from different angles, fostering deeper understanding.

Customization:

Tailoring reports to focus on specific metrics ensures relevance and clarity for various audiences.
Sage Enterprise Intelligence: Transforming Data Management:
Sage Enterprise Intelligence (SEI) is a Business Intelligence reporting solution, engineered to tackle the complexities of data management. With a focus on seamless data handling, SEI presents a centralized platform that adeptly collects, processes, and scrutinizes data from diverse sources. With a user-friendly interface and intuitive tools shine brightly, making data integration and management remarkably effortless. SEI emerges as a transformative tool, empowering businesses to navigate the intricacies of data with finesse and precision.
Preview our short webinar recap video below to learn how SEI can benefit your business.
SEI Helps
Manage your data
Gain insight visibility
Empower all users
Collaborate securely
SEI Benefits Include
Providing pre built reports
Enterprise wide reporting
Bring together data for multiple databases
Clean up data

Enabling Informed Decision-Making:
Modern BI report building tools redefine the reporting landscape. BI reports aren't mere documents; they're decision enablers. By presenting accurate, contextual insights in a digestible format, they empower decision-makers to navigate complexities and seize opportunities.

Conclusion:
In an era where data reigns supreme, BI report building emerges as a linchpin for unlocking data's true potential. By creating insightful, engaging reports, businesses can foster a culture of data-driven decision-making, fostering growth, and seizing opportunities.
Eager to harness the potential of BI report building? Explore the tools and techniques that can transform your data into a strategic asset. Discover more about our BI reporting solutions with BAASS Business Solutions at baass support. Your journey towards data-driven success begins today.