Knowing when or why to upgrade your ERP software can be confusing, and an extraordinary undertaking. In this blog, we will discuss the five most common reasons to upgrade your ERP system, and how to determine if your business is in need of one. We advise that if your business has experienced any of these factors, to evaluate your system to ensure it is still maintaining the functionality desired.
How does an upgrade differ from an update?
The most simple way to define the difference between an update and an upgrade is to think of an upgrade as a less frequent, more drastic change to the software you are currently using. This often requires an ERP implementation or upgrade project, and can be seen as a burden on the organization in the form of costs, resources, risks; although in most cases there are more benefits than negatives when an upgrade is needed.
Whereas a software update, is when newer versions of the software are released; this can be more frequent, fix little bugs or make small tweaks, and is often used to repair the product. Software vendors often release new features in their latest version of the software, which can help to improve business processes, user experience, business applications etc.
Five reasons for an ERP upgrade
1
. Expansion or Growth
Growth could account for a number of things such as more transactions, increased demands, new products/services, new markets, a new business line etc. Any way in which your business has increased a variable or process. When businesses grow, they often can outgrow their current system and functionality. In some cases, it will take a customization or an ISV (Independent Software Vendor) Solution to extend the functionality, and in other cases, it will take a full system upgrade.
Growth often leads to expansion. A business that may have been focused on a certain geographic region in the beginning, however, with growth may see opportunities to build the business in additional regions, or even develop territories outside the original province or country. Expansion often creates the need to incorporate new business requirements including new tax rates, compliance, multiple currencies or languages — all features that your current ERP system may not be designed to handle.
If your business expands into a new business line, you would need an adequate ERP system to handle the changes and additional capacity may be needed. Anytime your company is experiencing rapid growth, it might be a good time to evaluate your ERP system in real-time and select a software application that can grow with the business.
2. Mergers and Acquisitions
If a new investor is evaluating your business and processes, you may need to upgrade your ERP system to support their needs and preferences. In the case that your business acquires another business, the ERP Solution you currently are running on may not have the capabilities and needs to support the change. It is important to ensure your operating system is able to handle all business functions for now and in the long term.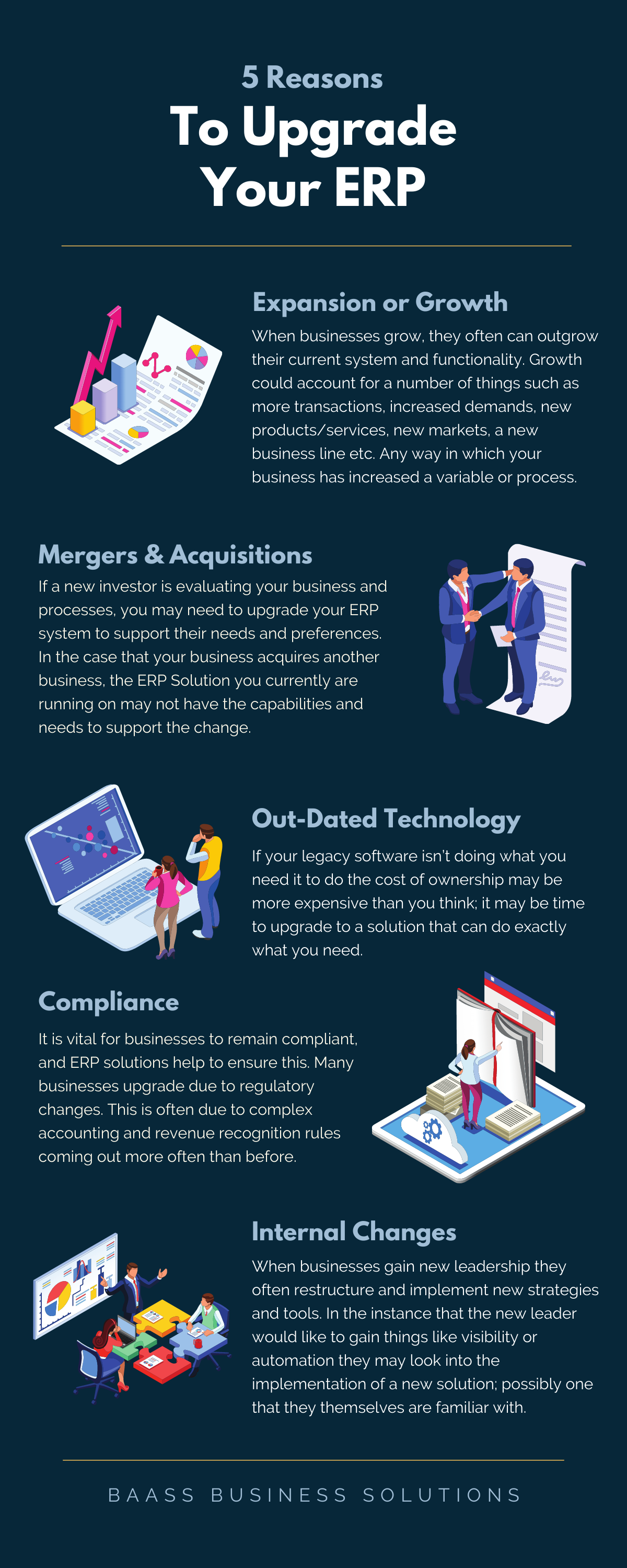 3. Out-Dated Technology
Many businesses are running on older versions of software, and some are no longer supported. A legacy system is usually a custom-built application that an organization has used for years or even decades. Many companies are hesitant to upgrade due to the system running fine for their needs or the number of customizations they have added over time.
Although it is not always necessary to upgrade your solutions, it is important they have managed services and ensure that your system is still supported. This is because if something were to go wrong with the solution it would be much more difficult to fix, rather than if your business was running on a system that companies like BAASS or the software vendor could support.
This can also become an issue when individuals leave or retire, and there is no one to train or troubleshoot new employees on the old software. Proactively upgrading your ERP system may be a beneficial (and necessary) decision for your organization if you find yourself in this type of situation.
Finally, processes and businesses overall change over time, and the solution you are currency running on may not have the visibility, insights, capabilities or functionality you're in need of to run an efficient business. Just because the solution was the perfect fit at the time of the purchase does not mean it will be the best fit forever - technology is continuously advancing and many new products come to market.
If your legacy software isn't doing what you need it to do the cost of ownership may be more expensive than you think; it may be time to upgrade to a solution that can do exactly what you need.
4. Compliance
It is vital for businesses to remain compliant, and ERP solutions help to ensure this. Many businesses upgrade due to regulatory changes. We see this occur often due to complex accounting and revenue recognition rules coming out more often than before. Regularly these rules ensure compliance for security, functionality and risk management.
5. Internal Changes
The final instance in which your company may consider upgrading the ERP system is when there is new leadership. When businesses gain new leadership they often restructure and implement new strategies and tools. In the instance that the new leader would like to gain things like visibility or automation they may look into the implementation of a new solution; possibly one that they themselves are familiar with.
Summary
Although there are many additional reasons businesses may choose to upgrade their ERP solutions, these are some common factors which your business should consider. It is important to evaluate your business, processes, supply chain, strategy and more for the future to determine if your solution will be able to keep up with demand and ensure efficiency. If you would like to learn more, contact BAASS today for an evaluation of your ERP solution and functionality.