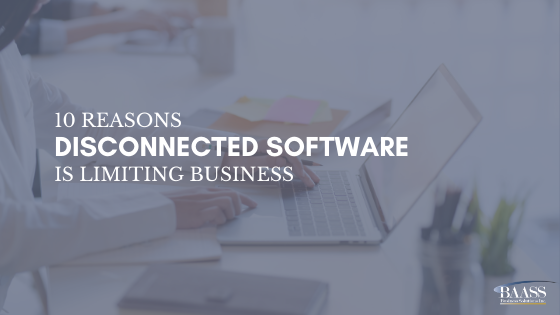 It is common that the limiting factor in many businesses is the inability to scale or grow due to software. In order to grow, many business owners invest in a variety of systems and tools that do not connect with one another - as they fit the need at the time. Regardless of your business size or scope, it is important to ensure you are planning for the long term.
Aspects of your business will need software to manage the financials, expense management, invoicing, project management, shipping, customer data, marketing and sales - just to name a few.
Take a moment and consider what tools you and your team members use on a daily basis. Of those tools are they still helping you run an efficient and successful business?
In the best-case scenario, all these systems are connected or integrated and data passes between them. However in most scenarios, you end up with silos of information that require manual data entry or import functions which cost you both time and resources.
10 Reasons your Disconnected Software is Limiting your Business:
Duplicate data entry: No matter the size of your business we have all had to re-enter data at one time or another. But as your business scales, there is a greater chance that this

can lead to a costly mistake

. Plus this is inefficient as it wastes time, resources and often results in keystroke errors.
Information is Buried: No matter who is looking within your team, at times information related to your products or services can be hard to find in your software. Especially when working with clients in a quick-paced sales environment.
Data is Scattered: Various systems could contain different variations of the same data so you're not sure what to believe; this is most common in CRM with lead generation tools. Do you have duplicate entries for the same person?
No Data Validation: When you import information if it doesn't sync or is not mapped properly, it will take you additional time to manage the data and re-import.
Slow Computer Processes: If your software is running on your computer or a dedicated server, the amount of data that needs to be processed can slow significantly depending on how many tools the data needs to pass through.
Inaccurate Reporting: Reports may be outdated as soon as they're run if data is not refreshed in real-time. This out-dated data can impact business decisions and may skew your business model.
Communication Blocks: Information that can't be shared across all departments creates communication blocks especially if not everyone has access to all the different systems
Increase Training Costs: Software solutions can have multiple user interfaces which means more complex training, especially for new hires. This can be costly and time-consuming, negatively affecting your bottom line.
Upgrading Can Be A Pain: All of the systems can be on

different upgrade cycles

and it is possible that the upgrades are not compatible.
Maintenance and Support: Some systems are old so the maintenance costs are high or support is limited or unavailable.
BAASS Business Solutions has the software experts and development tools available to provide you a whole and connected business solution. We will work with you to find a solution to grow your business, whether it be entry-level, mid-tier, cloud or beyond to maximize resources, improve processes, gain visibility, and increase efficiency.
Contact us today to see how BAASS can help you get your software integrated.