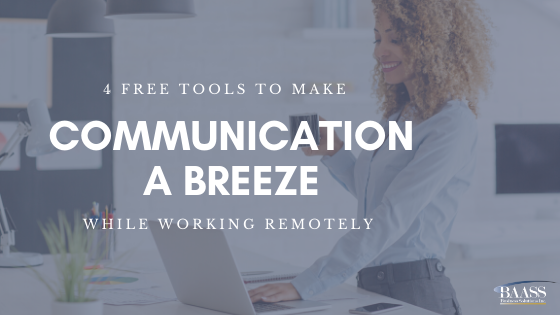 With working from home becoming a necessity for many companies, it is important to be aware of the tools that can help keep communication and collaboration productive. BAASS has put together a list of 4 tools that will help you to collaborate, meet and manage your team effectively while working remotely at no cost!
Collaboration & Storage
1. Google Drive

Working remotely can be challenging when you're constantly sharing files back and forth via email. Different versions of the same project pass each other, and hard drives can fill with re-named updates.
Google drive is able to create an online filing cabinet to store all your documentation for photos, stories, designs, drawings, recordings, videos, and more. The free account allows you to store 15GB of data within your personal drive. The files saved within your Drive can be reached from any smartphone, tablet, or computer and will remain private unless shared by you.
Access can be granted to multiple email addresses giving each individual the ability to view or edit a dynamic document at the same time from different locations. There is even a tab to see all changes completed, by who, and when making it simple to restore previous versions. Google also allows the option to add suggestions or questions throughout the document to notify your team of your ideas and concerns without changing the content. Google Drive offers a variety of content styles whether it be a document, a financial sheet, or a presentation.
To set up a free Google Drive account click here: https://www.google.ca/drive/ and select personal account. If you will need more than 15GB of storage view the Business option for pricing details.
Meetings & Engagement

Zoom is a web-based conferencing platform that is helpful for holding meetings from remote locations. It works by sending a URL and meeting invite to participants allowing them to join the online conference from their smartphone, tablet, or computer. The video conference option allows for face-to-face interactions to help feel more connected and enhance collaboration.
Zoom offers a free account sign up which enables you to hold meetings with up to 100 participants in 40-minute intervals. The free account gives access to the following features:
Video Conference Features
Web Conferencing Features
Group Collaboration Features
And Security Features
Learn more about Zoom plans here: https://zoom.us/pricing
3. Slido


Slido is compatible with Zoom and enhances engagement and brainstorming throughout a meeting. This tool has built-in features that enable users to crowdsource top questions, create live polls to enhance participation and gain insights during a presentation or meeting. Slido also integrates with applications you may already use such as Google Sheets, Google Slides and Slack. Whether you run a large video conference, a live webinar, or a small team meeting this tool makes it simple to engage your audience.
Learn more about Slido: https://www.sli.do/
Organization & Project Management
4. Asana
Asana is a web and mobile-based project management tool designed to help teams organize, track, and manage their work. Asana helps to keep remote teams organized and focused on their goals, projects, and tasks while working anytime from anywhere.
Asana offers a free version which allows users to:
Create and assign tasks
Create and view projects by a list, board, or calendar
Assign due dates
Collaborate with up to 15 teammates
And more!
Imagine a place where all your business goals, projects, tasks, ideas, plans, and reminders are in one platform, making it simple to stay organized! Try it for free here: https://asana.com/create-account
If you want to learn more about how to stay productive working remotely, visit our blog Remote Project Management to learn more on how to utilize this tool.
Are you working remotely? Here are 5 Tips to Succeed at Working From Home.