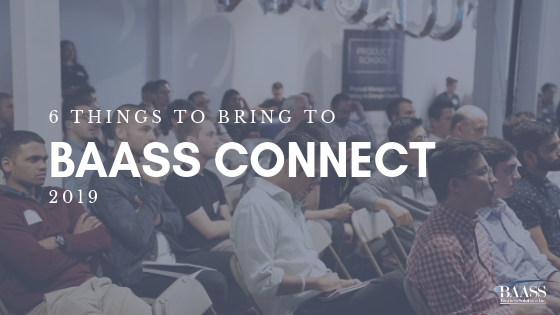 BAASS Connect is next month! Now that you are registered you are probably wondering about the next steps - no worries, we have you covered. Not registered yet? There is still time - register today. You may know what's happening during the day of the event, but what do you bring? Take a look below:
New for 2019 - Your Ticket!
We want to streamline the badge pickup process. This year we are asking for participants to have their ticket confirmations on-hand, whether it be a printout, screen-shot, email, or etc. This will allow us to find your badge and any additional items for you, with greater ease.
Notebook + Pen
Now, don't feel limited to these two items. Bring anything you want to take notes on, whether it be a laptop or tablet. Our goal at BAASS Connect is to have you return to your organization the day after the event, with your head FULL of actionable information. Our advice is for you to bring something to write down all your notes, ideas, thoughts, and questions down during the presentations. You may have some questions while our speakers are presenting- no problem! Jot them down. You may have an opportunity later to ask the question to the speaker themselves later. Maybe you had an insightful takeaway from one of the presentations- no problem! Write it down so you can pitch the idea to your co-workers when you return to work. All in all, we want to ensure that our event-goers leave filled with knowledge and information.
Business Cards
When you arrive at BAASS Connect and you're surrounded by many other industry professionals, you will want to connect with some. The classic and traditional method of passing a business card still stands. Give your business card to others at the event. After all, there will be numerous individuals whom you want to network and connect with. Keep in mind how many you need to bring! It's always better to have more business cards on hand, than not enough. Another option is to have the LinkedIn app installed prior to the event- this is another quick and easy way for you to connect with others at the event! Did you know BAASS is on LinkedIn? We'd love to connect with you.
An Open Mind to Learning
BAASS Connect draws many professionals from different industries who all bring various backgrounds and perspectives. Being open to engaging with all these different individuals and being open to their opinions or thoughts will greatly benefit you. Take this conference as an opportunity to gain insights which you may not have initially thought would be applicable to your organization, but may actually be applicable after all. Don't take your industry or field as a limitation, but rather as an occasion to learn from others of diverging backgrounds.
Elevator Pitch
Being in a space with many like-minded individuals calls for many things- such as an introduction. Be prepared for common questions, what do you do, what your business does, what industry you're in, and more. Preparing this ahead of time may boost your professionalism, but keep in mind that you don't have to prepare a speech to recite! Also, make an effort to ask other questions as well. You never know how that connection may flourish in the future.
A Bag
While you may be giving out business cards and information to others, keep in mind that you may be receiving them too. Having a bag will ensure that you're not juggling 5 items between your hands at once. It'll also give you a spot to put away your devices, notes, or any swag received throughout the day.
We hope you have a sense of what to bring to this year's event. We look forward to seeing you at BAASS Connect 2019!