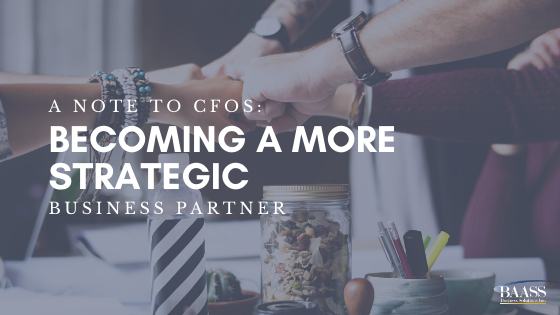 As Chief Financial Officer (CFO), it is your responsibility to ensure the financial health and stability of your business organization. This requires a lot of time and energy spent searching for and analyzing business data, compiling information into tables and charts, and presenting facts to the rest of the C-level suite. The numbers and information you study on a daily basis serve to help the executive team make decisions about the company's future and align the business' current reality with their vision. In short, your job plays a more vital role in the future of your company than you even realize.
As business leaders and executives look to move their companies into the future, the roles of key positions in the C-level suite are being challenged. Rather than focusing on a singular role or activity, business leaders are challenging CFOs to move from a singular-focused financial expert to an all-encompassing strategic leader. This, in turn, changes not only your priorities as CFO but also your approach.
CEOs want to see more strategic and big picture thinking from today's CFOs. This requires stepping away from the numbers, regulatory requirements, and daily demands of various financial, compliance and tax reporting. But how do you realistically move into a more strategic role without compromising many of the still important aspects of your job?
By automating many of the time-consuming operational and tactical aspects of the job, CFOs can become more strategic business partners.
How to Move Away from the Numbers and into Strategy
In order to transition into a more strategic role that adds value to the company while still maintaining financial and regulatory requirements, you need to automate many of the time-consuming operational and tactical aspects of your job. In short, you need to rely on technology to do the job you cannot. What many CFOs do not realize is that Business Intelligence is more than a solution that provides insight into your data; it is designed to manage your data so you do not have to do so. This gives you more time to focus on leveraging financial information to play a more strategic role in improving company performance, assessing new markets, and continuing to meet regulatory requirements.
Business Intelligence tools stay buried in the financial data and information so you can come up for air and focus your attention on more strategic tasks. It allows you to step away from the numbers and join the CEO and other strategic leaders in guiding the company toward financial and operational success.
Blog: What is Business Intelligence?
Contact us today if you need help learning how to utilize these tools to free up your time for more strategic tasks.