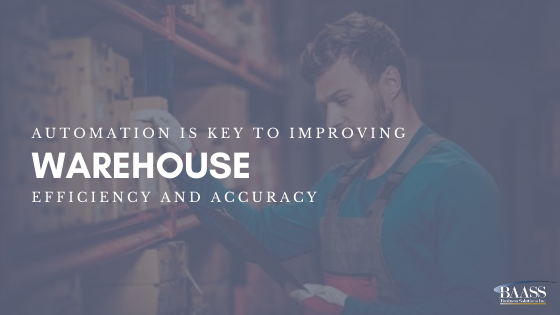 Are you looking for ways to increase efficiency within the warehouse? Do you find that human error is the cause of costly mistakes time and again?
Inefficient processes and inaccurate data can lead to significant problems in the warehouse and beyond. Whether you are dealing with erroneous inventory numbers leading to overstock or understock situations or you are missing shipment deadlines due to inefficiencies in the order fulfillment process, the impact of operational inefficiencies can be felt across the organization and even impact your company's profitability.
If your company is feeling the impact of an inefficient warehouse operation, it may be time to take an honest look at your processes and technology situation. How much of your warehouse operation relies on manual processes? Half? A third? The majority?
Manually-driven processes take up more time and energy and result in more errors than today's modern warehouse can afford. To improve your efficiency and accuracy, you need to invest in technology that will automate your manual processes and streamline communication within the warehouse. While warehouse management software is undoubtedly useful in helping manage your warehouse operation, to truly improve your warehouse processes, you need to implement real-time updating technology into your warehouse.
What Happens When You Trade in Manual Processes for Automated Ones with warehouse Technology Solutions?
If you are relying on manual processes to count inventory and complete shipment processes, you are wasting valuable time and further the chance for data inaccuracies. By implementing real-time bar code scanning software, you can regain the time you have lost in the warehouse and start improving the accuracy of your data immediately. Bar codes can be applied to every item within your inventory. Once applied, you can use a wireless bar code scanner to perform a physical inventory count, scan items that need to be moved to a different area of the warehouse, or complete order fulfillment tasks. The information collected with the scanner is seamlessly transferred to your company's warehouse management and ERP system, so you have a full picture of what is occurring in the warehouse.
Warehouse technology, such as barcoding, eliminates time-wasting activities, reduces the paperwork needed to manage assets, supplies, and shipments, and eliminates costly errors that result from manual processes. If your company is overwhelmed by the time and money being invested in the warehouse, you may want to consider whether warehouse technology would help improve your situation. Contact us to find out how you can implement barcoding software into your warehouse in a way that fits both the needs of your organization and your budget.
Looking for some tips?