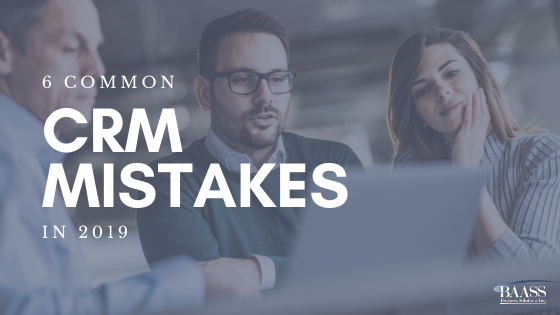 As your organization implements a new CRM solution, it's important to be aware of common CRM mistakes that may arise to help you avoid them. It's important to note that these mistakes may be useful even if your organization already has a CRM solution in place! Here is our list of common CRM mistakes
Lack of employee inclusion
With CRM, it is important to understand who will be using it in your organization. Including these employees on decisions will ensure the CRM solution will be leveraged and utilized. An employee who is dissatisfied with the CRM solution may be less likely to use it to its maximum potential. Furthermore, the employees who will use the CRM solution are those who best understand the processes needing to be made more efficient. As such, including them in on relevant decisions will ensure that the CRM solution will actually help with your current business processes and operations.
Too many features!
You might have been sold a little too well on extra features you thought you needed, but might not actually need. It's important to not overwhelm your employees with an abundance of extras -- sometimes, simplicity may be better. Consider if your employees are unsure of how to use the extra features, it may actually slow them down and create inefficiencies. On top of that, some employees may just not bother trying to use them at all! Be sure to carefully consider the features of your CRM system prior to committing it.
Redundant/Outdated Data
A common mistake is failing to maintain your data! A CRM solution may house an abundance of data, but it is less effective if your data is outdated. Ensure the data is updated often and redundant data is eliminated. Cleaning out or updating data as you go generates more efficiency, and allows you to leverage your CRM to its' full potential, rather than spending time digging through the endless amount of data it houses.
Not leveraging software integrations
As more and more companies adopt various software solutions for their organizations, it's important to be aware of the various integrations available between them. Integration of the solutions can improve your organization's process efficiencies by allowing your software to communicate. When deciding on a CRM, it may be useful to take a look at the solutions you already have in place to see what integrations are available to you as an option.
Skipping training
On par with ensuring employee inclusion, it is important to ensure that employees receive the appropriate training to utilize the CRM. Training will allow employees to efficiently navigate the solution and leverage the features of the solution. On par with having lots of features, this may ensure more features are being leveraged and used, as employees will be equipped with the knowledge and ability to use them.
Unscalable Solution
We get it -- it may be tempting to go for an option that is the perfect fit for your company at its current state. However, it is important to consider the future. As your company grows, it's salient for your software to grow with it. Be sure to keep this in mind when choosing a new CRM system!
Blog: 3 Common Problems and Solutions With Your CRM Data
As your organization embarks on its journey with your CRM system, we hope that this blog post has made the journey a little less rocky. Want to learn more about CRMs? Check out our CRM page.