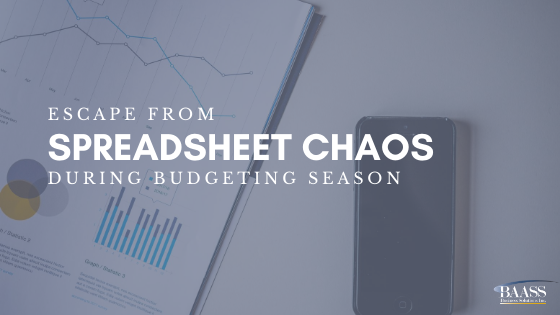 This budgeting cycle, as you once again pour over endless spreadsheets, consider how much easier life would be if the process used better technology and automation. According to some experts, 8 out of 10 businesses are still cranking out spreadsheets during summer's budgeting season.
We'd venture to guess that among those companies, the majority of employees responsible for budget are muttering under their breath about all the problems spreadsheets can create for budgeting. They're cumbersome. They're prone to error. And they can suddenly round numbers or change dates to percentages if you click the wrong button.
We've all been through that spreadsheet chaos, peering out from behind the computers that hold us prisoner. A simplified budgeting process is possible with the right technology and the right software makes the whole budgeting process easier and faster, for the following reasons:
Version control

: Have you ever emailed spreadsheets to your team only to find yourself wondering which version is the latest? It's hard to get everyone to agree on a version control system with individual spreadsheets. A software-based system, however, automatically provides you with version control, and keeps track of data entries efficiently.

Scalability

: Spreadsheets can handle only so much, and then you find yourself juggling multiple pages and complex formulas to complete your budget. They're difficult to scale up, and can become quite cumbersome. Software makes the process simple and smooth. It can handle more data efficiently, and scale up to expand as your business grows.

Reports and data visualization:

Spreadsheets enable simple graphics and data visualization. Budgeting software can provide detailed, customized reports and graphs with the click of a button. You'll spend less time working on reports and more time on your business.

Enhanced analytical capabilities

: If you want to analyze data on a spreadsheet, you have to run formulas or pull out a calculator and start computing. With accounting or budgeting software, analysis can be completed within the system in a matter of seconds. It's a great time-saver during budgeting season.

Integration with other systems

: Managers responsible for multiple areas within their companies are all-too familiar with the time-consuming and frustrating task of pulling multiple reports from different systems, printing them out, then manually entering the data onto spreadsheets. Not only is this method open to errors, it's complicated and frustrating. The right budgeting software can be integrated with other systems within your company so that different data streams can be pulled into one system. The resulting centralized data makes it so much easier to plan and use data effectively.
As Your Business Grows, Your Budgeting Process Grows Too
As your business grows, so too does the budgeting process. What used to be simple enough to complete using common spreadsheet software may now need a more robust, comprehensive solution. The more complex the business environment, the more sensible a budgeting software solution becomes.
Make the budgeting cycle easier this summer and break out of your spreadsheet prison. The faster you finish budgeting, the faster you can get back to business...or vacation!

Are you still using spreadsheets at your organization?
Check out our blog: 5 Reasons to Stop Using Spreadsheets
BAASS Business Solutions, Inc.
BAASS Business Solutions, Inc. can help you make the budgeting process a lot easier for all, as well as provide you with systems and solutions for your data needs. From CRM to ERP systems, business intelligence to budgeting, we help businesses harness and use their data. Contact us today or call 1-888-650-5544.