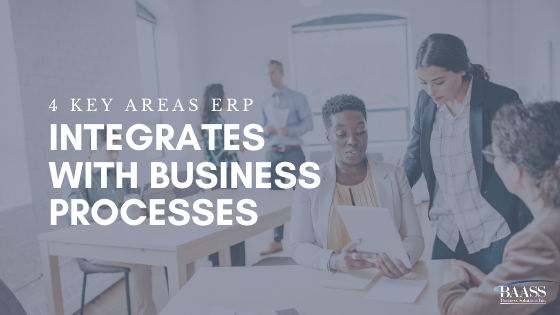 In today's business landscape business owners are bombarded with a variety of software solutions and tools. Although, many of these tools are created by different providers and do not easily integrate with one another. We at BAASS understand these difficulties and we have worked with a variety of businesses over the years to create custom integrations and/or find tools capable of serving the need and integrating with the Enterprise Resource Planning (ERP) solution.
What is an integrated business process?
An integrated business process is when you have a connection or integration where two systems are sharing data in an effort to improve a specific area of your organization.
Most commonly understood with ERP software and the integration between it and another software solution. Here are four business areas where your existing ERP can be joined with other areas of your business to improve your business processes.
Customer Service
There are a variety of benefits ERP can have to improve your Customer Service. A benefit is by streamlining your backend business processes. With the integration between your ERP system and customer service tools, your organization has a complete picture of the satisfaction your company is able to provide. It will also highlight any areas for improvement.
For example, if your manufacturing process was not running at an optimal level, your clients may be talking to your support team. This would cause a potential increase in support cases. By having this connection, the information is able to be actioned in real-time to make improvements to the business functions.
Another benefit is when there is an integration of an ERP and a Customer Relationship Management (CRM) solution, which can also lead to better customer communication as your team has reliable up to date information about the client, project, invoicing etc.
In this case, you are able to implement a customer self-serve portal where you can extend the access to up-to-date information to your clients when they need it. An example of this in action is customers could look up an order they placed to see the status of their order and any related statements.
eCommerce
Ecommerce systems typically work as the primary interface for customer orders. They offer a menu of purchasing options, provide product details, take orders, accept discounts and promo codes, handle payment, and give customers at least a basic level of order updating after the purchase. Ecommerce currently represents about 10% of all retail business and is expected to increase by about 15% annually.
When your eCommerce store and ERP are connected you have access to real-time data that flows from the purchase to the time of shipping. The integration helps eliminate the need for staff to re-entering the data. In turn, allowing resources to be better used in other areas and will help to reduce data redundancy and error.
To learn more about how ERP and eCommerce go hand in hand, make sure to read this article: Why Ecommerce and ERP are Made for Each Other
Sales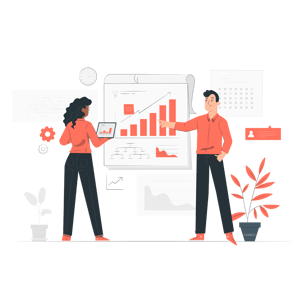 Whether you're in the business of selling products and/or services to paying customers, there's no escaping the importance of an effective sales process.
Your ERP solution can assist throughout the sales process.
Sale Inquiry: Your sales team can process the inquiries that are assigned to them with all the information about the company.
Order Management: The team is able to see what inventory is available prior to completing the order.
Project Management/Order processing: By having a connected ERP solution your sales team can stay up to date with their clients' orders.
Packing and Shipping: Your sales team can receive a notification when an order has been completed and shipped.
Having an integrated ERP and sales process is integral for keeping productivity high and operational costs low, all while having the oversight on the forecasts and budgets.
With today's remote work environment the need for cloud-based solutions is ever increasing. To learn more about cloud-based software visit: https://www.baass.com/erp.
Inventory Management
Having a fully integrated ERP solution in conjunction with your inventory is crucial for a full 360 view of the business. By having this integration you have the opportunity to increase efficiency, ability to reduce costs and have transparency on your supply chain.
No matter the size of your organization, there will always be several moving parts - especially when inventory is considered. Having the inventory module integrated with your ERP, no matter what department, allows your team to access stock levels, invoices, shipping information all in the hope to increase efficiency. By having these systems connected you will save, as the opportunity for the lost or misplaced stock is reduced. It will also assist in the pick and pack process of getting orders out to clients, which will save time and resources.
If you operate across many offices, locations and warehouses it can be extremely difficult to know what levels of stock are available. With an integrated system, anyone within the business can check the status or quality of a product. Which can improve company-wide inventory management, reduce hassles when clients are ordering and for the sales team to secure sales.
In closing
Customer service, eCommerce, sales, and inventory management are just a handful of areas of how an integrated ERP solution can help to:
reduce business challenges
improve customer service
increase transparency
provide insight from all areas of the business.
We encourage you to take stock of all the solutions you are currently using and noting those that are not currently connected. If you are looking for assistance with this, please reach out to BAASS today to help you bridge the gap between your ERP and other tools.
Looking for more information on Sage 300 and Warehouse integrations? You should watch our on-demand webinar How To Create a Successful Business Case for a Sage 300 Warehouse System