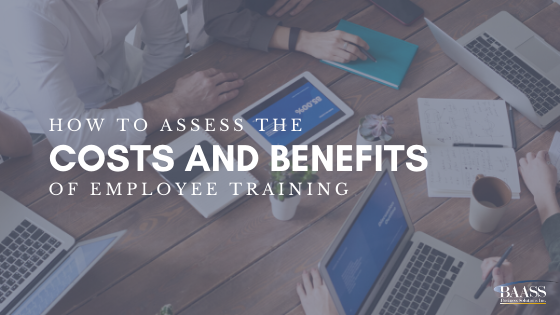 Perhaps your organization would like to offer employee training as one of its benefits, but you're not sure if you can afford it. Or maybe you're just not sure it's worth it. After all, how can you quantify learning?
There are several ways in which you can assess the costs and benefits of training. Each organization is different. Some organizations place a premium on innovation and advancements, others on value longevity and company knowledge. Both can be enhanced by a comprehensive training program.
Learn more about HRIS: The Ultimate Guide for HRIS
If you're thinking about launching a training program in your company, here's how to weigh the costs versus the benefits.
Five Steps to Assess Training ROI
Identify the need: Before launching a training program, identify the needs that training fulfills within your organization. Can you align it to KPIs or other benchmarks?
Quantify the results: List the expected results from your training program and affix a value to them. The more you can quantify the results, the easier it is to measure the impact of training. For example, if your desire is to make your employee training program reduce turnover by 20 percent, know what your current turnover rate is and put in place a method by which to measure it post training. Other things you can measure through training include effectiveness and efficiency.
Add qualitative results: There are other results that you can factor into your cost-benefit analysis of training programs. On-the-job training can prepare employees for the next rung in the corporate ladder. Cultivating in-house talent not only engenders loyalty to the company, it also increases morale. When employees have higher positions they can aspire to, they tend to work harder and stay with the company longer. List all qualitative benefits you believe that training will provide your company.
List the costs: Training costs include both the cost of hiring a trainer or seminar fees and the cost of workers' time spent in training. You'll need to add up the direct costs of training materials and fees as well as the indirect costs of employees attending training seminars instead of working.
Add training to your HR system: Use your HR system to log training hours, and to help you collect all the metrics that you need to assess the ROI of training.
ROI is the difference between the cost of the investment and the profits achieved. A positive number means you've benefited more than you've spent. Your training ROI will result in both qualitative and quantitative benefits.
If you're evaluating a training program, running estimated figures of both qualitative and quantitative achievements, while also mapping outcomes to KPIs, offers a compelling argument for the positive benefits of training.
Training and the Adult Learner
Adults learn differently than children. Adults need hands-on, experiential learning. Some of your training time should be devoted to job shadowing, or having less experienced employees follow and learn from senior employees. Managers should be willing to invest time in their junior staff, teaching them through real-life scenarios how to improve their management and on-the-job skills.
Keep Track of Training with a New HR System
At BAASS Business Solutions, we understand the skills and talents of HR professionals and the important role they play in a company's success. We can help you find great solutions for your HR needs that improve engagement, monitor learning, and reduce turnover. To find out more, contact us today or call 1-888-650-5544 for a consultation and more information about BAASS Business Solutions.