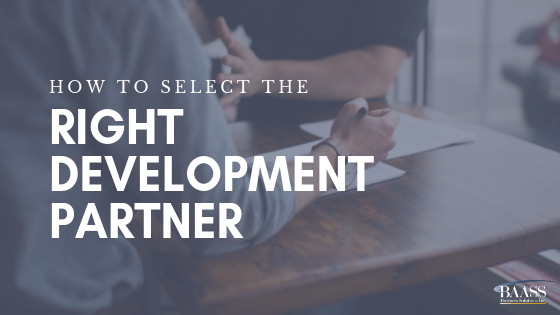 Before diving into the selection of the right development partner, it's important to understand the idea of development. In the competitive business environment today, technology is a salient aspect of organizational productivity. A skilled development team can ensure the technology you use in your daily business activities can help you succeed.
At BAASS, our development team has a focus on the improvement of quality software applications. This means working with desktop, web, and cloud-based technologies within Sage ERP, CRM and HRIS systems, in co-operation with supporting the Sage Partner Ecosystem.
Visit our development marketplace to learn about some of our tools.
But first, consider…
It is important to understand what your business is facing in terms of challenges or limitations. Ask yourself the following questions:
Are you up to date with the capabilities of emerging technology?
Are you overspending on systems without ROI?
Do your systems integrate?
Are you struggling to migrate excess information?
Are you failing to meet your needs of day-to-day business processes?
Is your software aligned with your company's growth rate?
Do you find yourself or team repeating processes over and over?
Asking yourself these questions will help you identify what you will need out of your development solution. Once this stage is completed, it is time to find and select the right development partner for you and your organization.
Finding Potential Partners?
Google: As with everything else, potential development partners can be found on Google. Be sure to use keywords, such as the industry you are in. Your search terms on Google can be as broad or narrow as you would like. You could even go through the websites of organizations in your industry to see who they have worked with, in the past. Aside from sources that can be found through Google, use Google applications themselves; oftentimes, when you search up a company, Google Reviews pop up on the side of your screen.
Referral: Ask a colleague or friends: Your best connections may be from the people around you. Look around your office or your personal life. You may find someone who has worked with a development partner in the past whom they can recommend you to. Nothing is better than hearing first hand about an experience with a potential partner to make the judgment of whether or not you want to consider them for your own organization.
Forums: Although not quite your traditional social platforms like Twitter or Facebook, online communities are a viable way to reach other individuals of similar interest. These individuals may share a common position, challenge, industry, cause, or more. However similar to social media, forums are a fantastic way to reach people outside of your local area. Leave a post on a page or follow a thread to see what others are suggesting or commenting about a potential development partner!
Blogs: Blog posts are a great way for organizations to share their expertise, information, or experiences with their audiences. You may come across a blog post an organization has written up regarding their success (or failure) with a development partner. On the other hand, you may come across a post written by a development company about their success with a company, quite possibly even in your own industry. Some posts may even already have a compiled or curated list of top development partners for you to refer to. Lastly, you can always write the blog post yourself. Try telling your story, and see if anyone who comes across the post will drop a comment and make a suggestion.
Social Media: This powerhouse tool has been gaining traction over the last few years. Not only can it be used to interact with your customers, but it can also be used to find potential partners. Try searching up hashtags to look for success stories or case studies from organizations in your industry. On the other hand, look through your suggested contacts to see if there are any possible contenders there. You may even take advantage of your own connections and ask your followers if they have any recommendations. Be sure to explore all the options on your different social media platforms!
Selecting Your Partner
At BAASS, we understand there are unique organizations with special requirements for their solutions. What might fit one organization perfectly, may not fit another. For this reason, we've compiled some tips on how to find the right development partner for you and your organization.
Experienced Resources
Similar to dealing with other tasks, having experience is key. A development partner with experienced resources is ideal for your organization. Developers are trained to follow best practices to protect the data integrity of the data. Being qualified may also make developers more agile. This skill allows them to adapt to new ideas or challenges which may arise during the process of creating a custom development solution for your organization. Don't forget that a confident partner will always be willing to connect you to or share experiences with past clients.
Software Development Life Cycle Methodology
Although developers may have varying software development life cycles (SDLC), they generally follow a similar structure. This structure is essentially a framework developers use during their delivery of a development solution, which includes technical and non-technical steps. You may find some companies have seven steps to their cycle, while others only have 5. However, it is important to note that most cycles will share some common steps. For instance, you may see a general cycle of planning, analyzing, designing, building, and testing.
Well-Packaged Solution
It is important for your development partner to understand the importance of having a well-packaged solution. A well-packaged solution includes design documentation, commenting on the source code for future support, following version control on changes, and providing detailed user documentation.
Design Documentation: This is a description or overview of the software. This includes the purpose of the tool, features, goals, and more. This provides the team with a united vision regarding the solution at hand.
Commenting on the Source Code for Future Support: Commenting on the source code will help developers pick up and make changes if needed for future support.
Following Version Control on Changes: This gives developers the ability to know the specifics regarding who wrote, edited, and updated what in the code.
Providing Detailed User Documentation: This is a detailed guide regarding how to use the software and how it operates. This is generally for end-users of the tool. It can contain FAQs, tips & tricks, features, instructions, and more.
Business Understanding
What makes a developer stand out is not only their technical expertise but their understanding of application and business processes. This will further their ability to come up with creative, custom-developed solutions. Having an understanding of business processes allows the development partner to effectively translate your unique needs into a development solution that will streamline and create efficiency for your organization.
Summary
Here at BAASS, we have undertaken hundreds of customized and add-on development solutions. For reference, you can take a look and explore our development tools marketplace to see our past solutions.
When starting out, it is important to understand the problem or limitation you are facing in your business with your current software. From that understanding, you are able to have a clear picture of what you are looking to have solved. This is where the development team comes into to take your problem and create your unique solution.
Read more about development at BAASS. We strive to provide extensive testing and quality assurance teams to extend us the confidence to deliver excellent results to our valued clients.