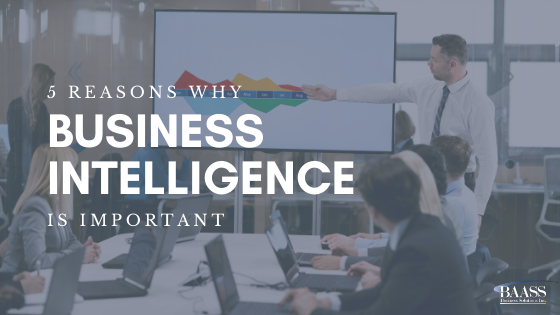 The big question is: What is the importance of business intelligence? Before diving into this, it's important to understand the topic in itself. Business intelligence is the transformation of raw data into meaningful information for your business; the term encompasses the processes and methods of analyzing, displaying, and reporting from your business operations for the goal of performance optimization. Through business intelligence, organizations can have an all-around view of their business, allowing for better decisions to be made.
We compiled a few advantages of using business intelligence:
Detecting Events/Trends
The utilization of business intelligence to identify or keep track of business trends helps organizations adapt. In an environment that is constantly changing, it is salient to be able to adjust to any significant events. Keep in mind that business intelligence may also be used to help you understand your competitors. Being able to recognize and discern the actions of your competitors can help you make the appropriate decisions for your own organization.
Satisfying your Customers
A requirement of satisfying customers is being able to have insight into your customers. Using business intelligence, you can analyze customer trends, such as their buying behaviour. With data about your customers, your organization benefits from understanding how consumers interact with your business. Whether it be determining a solution for a common issue, or continuing a practice due to its success, business intelligence can help you identify how to best satisfy your customers.
Increased Productivity
Business intelligence streamlines the process of transforming data into meaningful information. As such, your organization can expect to have access to data faster (real-time data access), especially through the ability to generate reports instantaneously. Furthermore, if you're facing business challenges in the sorts of high data volumes and multiple data sources or databases, business intelligence may be especially important in increasing productivity, and providing access to data quickly.
Improved Visibility
Improve visibility over your organization's processes through business intelligence. Business intelligence will enable you to identify and look for areas that might need improvement, or areas that are doing well. Expect to be able to gain access to this information about your organization in a fast manner too, allowing for increased efficiency.
Increased Return on Investment
Despite the cost of implementing a business intelligence solution, your organization may ultimately have a better return on investment. Being able to understand your data and business operations is greatly beneficial for your organization in allowing you to strategize. By implementing more appropriate processes and making more informed decisions, your organization may benefit from higher revenue generation.
For more information about business intelligence, be sure to check out our page. We can help you find the perfect business intelligence solution for you and your organization.