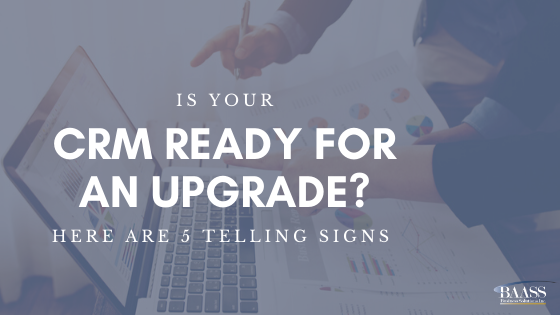 Customer Relationship Management (CRM) solutions help businesses store customer and prospect data, track sales processes, track customer satisfaction and more. However, when a CRM system has not been upgraded there are many things your business may be missing out on, such as the system not running to its full potential or the inability to access important features. We have compiled a list to help assist you in determining if it is time for a CRM system upgrade.
1.

The system is no longer supported
We always recommend upgrading software solutions, this is because you are able to get access to new features and take full advantage of what the solution has to offer. Upgrading your solution can also provide added review as a good time to see if your business needs with the tool have expanded.
Some businesses may feel that their software is running as desired and are not interested in the new updates; remaining on an older version is okay - until the version is no longer supported. When your version is no longer supported by the software provider there are a number of reasons why it is important to upgrade, however, the main reason is that if something breaks or an error occurs there is no support team available to help get your solution back up and running.
2.

The system has limited functionality
Although you may have chosen the best technology available at the time, if the solution hasn't been properly maintained and updated you may now be relying on a slow, limited version. If your solution is no longer giving you the capabilities you need for tracking and conducting key processes such as analyzing sales and customer life cycles, you may have outgrown what you initially had implemented.
3.

Data is limited or unreliable
CRM systems when configured to their potential are able to gather critical data, and organize it in ways that drive actionable insights. If your CRM solution is filled with contacts and data but your sales team is unable to act on what is presented to them, then it is likely in need of an upgrade to make it more user friendly and actionable.
It is important to have consistency within your CRM, as well as data cleanups to ensure your solution is providing the most up to date and accurate customer information to all users.
4.

Redundant tasks
Outdated software often involves more manual entry and redundant tasks that can regularly be replaced with automation. A more up-to-date CRM software could enable your business to automate many manual tasks, which in turn allows you to utilize your existing resources more efficiently, as well as avoid human errors.
5.

The system is no longer compatible with your other solutions
While CRM is a helpful tool for your organization, it is most likely not the only tool your business relies on. Your system needs to integrate seamlessly with other software and add-ons – such as financial management, scheduling and even operational data so they are able to operate efficiently and effectively together. If your CRM solution is out of date and can no longer integrate with your other solutions this is a telling sign that it is in need of an upgrade.
In closing
It is important to consider the scenarios above and analyze what your organization needs and wants out of your CRM solution. If upgrading and configurations are a complex process with your data and you feel you have outgrown your solution as a whole. You may consider looking for more modern solutions altogether, such as a cloud solution giving you that extra flexibility. Talk to your business partner to find out how your solution can be adjusted to meet your needs.
If you are looking for a new CRM solution and would like to learn more about the solutions we offer at BAASS visit our page: www.baass.com/crm.
Learn more about CRM Salesforce.