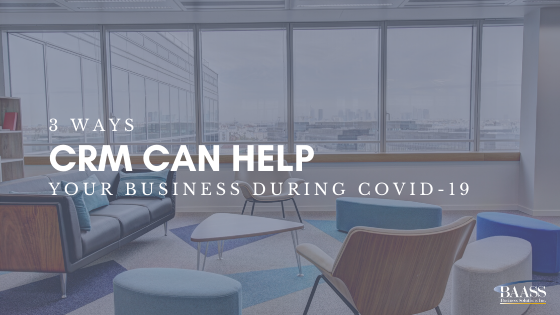 Amidst the COVID-19 pandemic, many people are working remotely, including our own BAASS team. While away from the office, we continue to utilize the same business applications that we would have access to under normal circumstances. By storing our applications such as CRM on a remote desktop, BAASS employees are able to access these tools from their own homes with two simple things: a computer and an internet connection. Now, more than ever, you can expect to rely on your CRM. Having a CRM solution can help your organization streamline processes and connect your various departments. In this blog, we will provide you with a few tips to help you leverage your CRM during these times while working remotely:
Enhance Communication with Customers
As implied by its name, a Customer Relationship Management solution is used to help manage your organization's interactions with customers. With the world shifting due to the current pandemic, consumers have shifted their preferences and priorities. It's important to leverage your CRM as you transition with your customers. CRM can encourage more contact and allows for you to easily maintain engagement through automated and mass communication, or even through targeted segments. Especially with features such as dashboards, you can effortlessly track customers that you have been out of touch with and act accordingly.
Action - Compile a list of clients whom your business has not had contact within the last 30, 60, 90 days. Prioritize communication with those who have not been contacted recently.
Moreover, as the surrounding economy is filled with uncertainty, you can take advantage of your CRM to communicate any necessary information or updates. Recently, you've probably noticed your own inbox flooded with emails from the many companies reaching out regarding changes in their own procedures. With all the changes occurring, it's important to keep your clients in the loop and demonstrate your responsiveness. It is also an opportunity for your company to demonstrate empathy by supporting your community. In addition to enhancing communication, a CRM solution can also improve your customer service. Take advantage of the collaborative abilities that CRM solutions offer to ensure that nothing gets missed and that customer needs are always met. This is especially important due to the decrease in face-to-face communication with co-workers.
Increased Diligence
With the theme of making the most out of your CRM, it's important to be more diligent with the quality of client data and taking the time to make sure you have the most accurate, up to date information in your system. Unlike before, there's no longer the same face to face accessibility with colleagues. It is time to rely on your CRM solution more as you work remotely and embrace the abundance of information that is housed centrally; better diligence in upkeeping data can help streamline business processes, as it minimizes the need to reach out to others for more information.
Action - Run a report for clients data that is incomplete or outdated. You can prioritize your customer service or sales team to update the information they may not have added and then reach out to the clients to update and confirm any outstanding data.
The heightened quality of data due to diligence can encourage more individuals to rely on the CRM solution. The usefulness and efficiency of a CRM stem from accurate and up-to-date information. This requires diligence on behalf of the users who are entering data, whether it means checking for duplicate information, maintaining consistency when filling out fields, or ensuring that information is always being updated when received.
Action - During a clean up you may be able to update existing CRM procedures that are followed internally to ensure the highest quality of information is included for all new contacts.
Integration to Improve Productivity
Working remotely entails many factors, such as keeping yourself accountable and on-track. We understand that there can be distractions at home which otherwise wouldn't exist at the office. With more dependence on various applications to schedule meetings, maintain calendars, or send emails, you may find yourself feeling overwhelmed and unable to keep track of what you need to do. However, CRM solutions can be integrated with various applications or tools that help you stay productive. As you work remotely, it is easy to miss information. You also may find yourself digging through various platforms to find specific information. If you're finding yourself getting distracted while working from home, use your CRM solution to increase your productivity through its integration capabilities!
To learn more about project management or task tools check out 4 Ways to Make Remote Project Management Stress Free.
Conclusion
Overall, if you weren't utilizing your CRM to its full potential before, there is no better time than to start now. With you and your colleagues away from the office, your organization's CRM solution can be the key to keeping information flowing between various departments and individuals. With the many benefits that can be reaped from the solution, increase reliance on the capabilities and features offered by your CRM. It's important to note that there are also many development options that can be added to your CRM to enhance different business processes. To learn more about CRM solutions, visit our website.