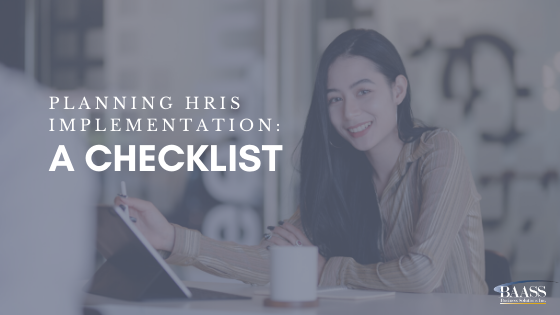 A HRIS (Human Resources Information System) is a tool that effectively helps the HR department become more efficient. It helps every business successfully transition their processes to meet the demands of the twenty-first century.
It improves productivity and helps reduce the amount of paperwork the average HR department generates. Self-service employee portals can guide staff to frequently needed tasks so that the HR department can use their skills for other tasks.
But, there are several things to keep in mind while working on your implementation plan. Change management is just as important to a smooth implementation as choosing the right HRIS software. The following checklist can help serve as a guide assisting with the many variables you may encounter during your HRIS implementation project.
An HRIS Implementation Checklist
Choose the right people for their roles:
Planning an HRIS implementation requires people to fill several roles. A project manager is the obvious one, but you'll also need someone to work on the project scope, an implementation team, management sponsorship or an executive champion, and a steering committee, or a core committee that meets more frequently than the entire implementation team. Before researching HRIS vendors, consider people in your organization who can fill these roles and discuss it with them.
Build a business case for the project:
Build the business case for the HRIS project by aligning core organizational goals to the case for the HRIS. Tie it into ROI if you can to strengthen the case for an HRIS.
Seek an executive champion:
A champion or management sponsor is someone at the senior level in your organization who agrees that the need for an HRIS is there. He or she can pitch the project to other senior leaders, secure funding, and resources, and provide valuable direction.
Consider hiring a consultant to lead the project:
Few companies have the luxury of hiring a special project manager. Instead, seek a vendor who can provide project management skill so that you don't have to find someone who can take on another task.
Decide between immediate conversion and parallel conversion:
Immediate conversion is the equivalent of flipping a switch and moving every aspect of HR management into the HRIS at once. Parallel conversion means having two systems running together for a while as you transition into the HRIS. The two systems may be manual systems and the new HRIS or a legacy system and the new HRIS. Immediate conversion forces people to use the new system, but parallel may be better if you want a phased rollout.
Train early and often:
To facilitate the change to a new system, train your teams early and often on how to use the new system. Although it may seem harsh, making the new system mandatory may be necessary to help laggards transition to it.
Consider corporate culture:
Corporate culture can enhance HRIS adoption or derail it. Talk to your implementation vendor or consultant about how to overcome common areas of corporate culture that can hinder the implementation. For example, do you need to have several executive sponsors so that it's clear that the company's leaders expect everyone to use the new system? Does your company have a habit of rolling out new software only to abandon it for the next latest and greatest product a few months later? Each of these situations requires a different approach. A skillful, experienced software consultant knows the challenges and has solutions to navigate difficult terrain.
Implementing an HRIS system presents its own unique set of challenges. With this checklist, you can avoid many of the potential challenges and enjoy a smooth transition to your new system.
BAASS Business Solutions
At BAASS Business Solutions, we seek to help our customers improve processes to become more profitable. We take the time to understand the needs of your business and help you select software that will improve efficiencies, service, and profitability. HRIS systems are just one of the many software resources we offer. For more information, visit BAASS or contact us.