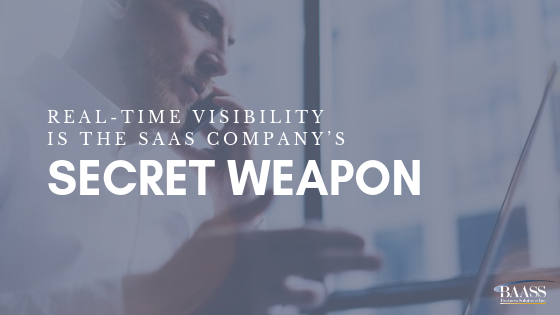 It seems the workload for SaaS companies is always growing. The looming impact of the ASC 606 and IFRS 15 guidelines aren't here yet, but already we are seeing SaaS companies having to adjust their new 2 and 3-year subscription contracts to comply with changes that aren't happening until 2018, and even 2019.
However, business doesn't stop for change, and while most businesses in the world need only to focus on a set number of standard financial metrics to keep track of their company's performance, fast-growth SaaS companies with varying product and subscription complexities must also examine their business metrics in addition to financial KPI's, and now must adjust for the new revenue recognition changes on the horizon as well. This is no small feat.
Now, add in that these companies also may also be contending with global entities, multiple currencies, renewals, product changes, subscription add-ons and finally, other software solutions like Salesforce. Suddenly, making sense of data on a moment's notice to scale and steer growth can seem next to impossible.
That's why now more than ever before, fast-growth SaaS companies facing these data hurdles need immediate answers to complex KPI's. The most efficient way to overcome these hurdles is through real-time visibility.
Real-time visibility means CFOs can examine subscription renewal rates, churn, new subscriptions, product adaptation histories and client activity - all things that drive the business – in their most accurate state. That means clearer decision-making, subscription service excellence, and most of all, speed and accuracy throughout the entire company.
This kind of visibility can only be achieved through working within the cloud. When fast-growing, forward-thinking SaaS companies rely on a best-in-class cloud accounting solution like Sage Intacct, data transfer becomes easy:
Real-time metrics visuals are quick, accurate, and easy to customize and analyze, from customized dashboards, in flexible views.

Transparent interface means CFOs can customize their forecasting reports and even drill all the way down to the actual transactions to gain a deep understanding of what's driving financial and operational data, no matter what the industry, product segment, or revenue complexity.
Whether key decision makers need actual vs. budget, new vs. add-on revenues, or anywhere in-between, data can be broken out to recognize key trends over time, to lay down detailed audit trails and to handle multi-entity currencies and locations for global consolidations with the click of a button.
While the obstacles SaaS companies face are a challenge, the cloud offers the right kind of seamless integration, high-level of automation and crystal clear transparency that SaaS companies need, and when you add in real-time visibility to these powerful solutions, things like compliance, and multiple consolidations, deferred revenue and renewal rates won't stall success.
Face subscription complexities, compliance changes, and fast-growth head-on. Contact us to learn how cloud accounting can provide the right kind of support your company needs to stay on top.