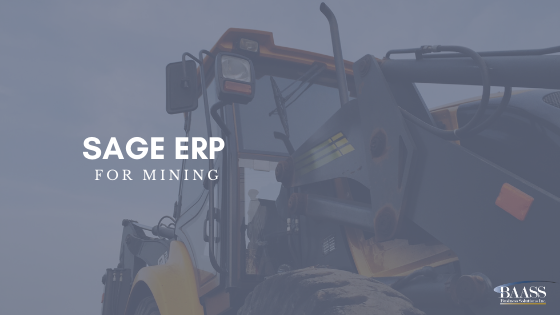 Limitations with your current financial software?
Sage ERP for Mining helps bridge the gap between financial information and production information by utilizing a configurable set of workflow and BI tools providing information anywhere, anytime. Through the use of this comprehensive system, mining companies will be positioned for positive future growth.
The key components of a solution for mining involves an easy-to-use workflow driven set of processes to manage procurement, production and internal costs requirements as well as multi-currency ties.
Sage ERP
for Mining incorporates a complete workflow suite to assist with simple, fast data entry requirements from the mine with comprehensive authorization rules built in, linked to cost centres or budgets.
Sage ERP for Mining Features:
Dimensional General Ledger with up to 99 years of history online.
Transactional analysis provides costing at the shaft, process, sub-process, and equipment levels.
Workflow management of procurement and internal resources dynamically link to cost centres, allowing you to easily analyze and authorize expense codes with complete control.
Integrated fixed asset management complies with IFRS and Sarbanes-Oxley.
Capital equipment management with advanced maintenance and repair schedules.
The flexibility to capture production and exploration data with configurable time periods and units of measure to produce cost-per-ounce and cost-per-meter reporting.
Comprehensive business intelligence combining financial and production data via the information, easy-to-use management dashboard
Find out more about how Sage ERP for Mining can help you become more efficient.

Click here to read the TintinaGold Resources success story.

"BAASS Business Solutions impressed us; they have lots of experience with mining companies, so they quickly understood our business model and our vision. Their support and implementation services are excellent — and we like their fair and affordable fixed price model." - Wylie Hui, CFO for TintinaGold Resources