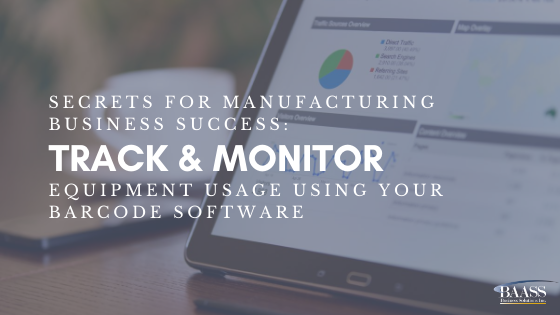 From offices to manufacturing centers, tracking, and monitoring fixed assets can be time-consuming. In the olden days, many office managers kept spreadsheets of fixed assets that includes desks, chairs, computers, forklifts, and more.
It was hard to track equipment that was moved among various locations, and frantic phone calls to managers at different plants or warehouses to track down specialized equipment wasn't uncommon. Today, however, fixed asset tracking using bar code software has become commonplace, and it's saving many companies a lot of time and headaches in the warehouse.
Barcodes on Fixed Assets
The premise is simple: set up barcodes to track various asset categories in your company. You can then print labels and affix them to the assets as you would to raw materials or finished goods, scan, and track them in your computer system.
There are many benefits to using barcodes on your fixed asset:
Improves productivity

: You can locate assets immediately if they are swiped in and out of buildings or locations. If you frequently move equipment or machinery from one location to another, adding one simple step of swiping the barcode with a handheld scanner or mobile device enabled with barcode scanning technology makes it simple to update your inventory records and keep track of where equipment is now located. This improves overall productivity.

Increases accuracy

: Anytime you can automate a system, you eliminate many of the mistakes that creep in from human error. Swiping a barcode prevents many manual keying errors that can occur from non-automated tracking of assets.

Ensures compliance

: Financial and accounting compliance and record-keeping are both made easier with automated fixed asset tracking. Instead of asking for an updated report, then waiting for a manual inventory of assets to be completed, the finance department can run reports right from your company's ERP system.
What Can You Track?
Barcodes can be used to track raw goods in the supply chain, completed goods in the warehouse or fixed assets. When it comes to fixed assets, many manufacturers choose to track the following:
Office equipment such as computers, printers, and copiers.

Tools such as saws, drills, and toolboxes.

Depreciation and maintenance on company equipment. This can be tracked by scanning items into inventory whenever they are maintained such as scanning barcodes to update records indicating when fleet vehicles received oil changes.

Checking objects in and out of inventory.
How you use fixed asset tracking may vary. Some businesses have only one location, so tracking equipment among various manufacturing plants isn't an issue. However, knowing the last time the forklift underwent routine maintenance or was serviced by the manufacturer might be an important thing to know.
For fixed asset tracking, barcodes offer a simple, flexible, and easily implemented solution. It's just another way that barcode scanners and software are making business better.
Business Systems and Solutions from BAASS Business Solutions, Inc.
Choosing the right system starts with choosing the right software vendor. With a good vendor by your side, you'll have a knowledgeable partner who can help you find the right software for your needs. BAASS Business Solutions offers expert insight, knowledgeable people, and business software that will help you be more productive and effective.
For more information, contact us online or call 1-888-650-5544.