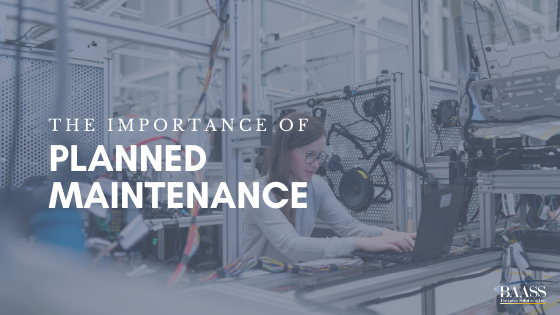 Manufacturers often use the terms preventative and planned maintenance interchangeably. Routine maintenance is perhaps a more accurate term. It refers to scheduled maintenance for your equipment and facilities that can prevent equipment from prematurely breaking down.
All equipment eventually wears out. The goal of planned maintenance is to keep your equipment operating as efficiently as possible, for as long as possible.
Although you can use an old-fashioned printed calendar system, service management software offers a better way to manage planned maintenance. With a sound schedule of planned maintenance activities at your manufacturing facility, you can prevent costly delays resulting from defective equipment. Let's take a look at what should be on the average planned maintenance schedule, and why it is important.
What Should Be on a Planned Maintenance Schedule?
No two manufacturing companies will use the same schedule because each uses a different set of equipment. Food manufacturers may have items like changing grease filters, fryer maintenance, and boiler service as part of their maintenance schedule, while an automotive manufacturer may need to run diagnostics on robotic equipment, calibrate instruments, and change air and paint filters in industrial manufacturing environments.
The most common items to include on a manufacturing company's planned maintenance schedule include:
Filters - This includes office air filters, HVAC filters, grease and baffle hood filters, paint filtration parts, and water filters.
Belts - Belts may need to be changed on conveyors and other equipment. Belts should be inspected frequently for signs of wear and changed before they break.
Vehicle maintenance - If you maintain a fleet of vehicles, planned maintenance such as state inspections, oil changes, tire rotation, and cleaning can be added to service management software to ensure it is conducted on a reoccurring schedule.
Calibration of instruments - Delicate instruments may need to be re-calibrated after a certain number of uses.
Compressors - Compressors should be inspected to make sure there are no cracks or wear that can lead to safety hazards.
Cleaning and changing lights - Light fixtures can get dirty and reduce the light reaching production areas. Bulbs that burn out need to be replaced to ensure that there is adequate light in the warehouse, distribution center, and manufacturing areas.
HVAC maintenance - Air conditioning and heating systems should be routinely cleaned and checked to ensure energy efficiency and healthy air flows throughout your offices and manufacturing facilities.
Pest control - Some industries may face unpleasant nuisances such as insects, rodents, etc. If pest control services such as termite inspection, bedbug treatments, or other treatments are required, these can also be scheduled for routine maintenance.
These are just a few areas of routine maintenance to consider. Your own business may have different needs. You can use your service management software to set up a schedule that's just right for your company.
Why Bother with Planned Maintenance?
There are several reasons why planned maintenance is important.
Planned maintenance ...
Improves equipment efficiency: Equipment such as HVAC systems, fryers, paint sprayers, and other items benefits from regular maintenance. Clean and well-maintained systems work better. They save money by using less energy. They can do more in less time than dirty, worn out equipment.
Saves money: You'll save on expensive emergency repairs when your equipment is maintained on a routine schedule. Of course, you cannot prevent all breakdowns but, as you probably know from owning a personal vehicle, routine maintenance often saves on costly repairs later.
Boosts productivity: An unexpected equipment breakdown can seriously derail scheduled production days. Shifting order production to other equipment or having equipment stand idle while waiting for service and repair decreases productivity. Planned maintenance can reduce such issues to a minimum by addressing problems and maintenance needs before they become critical.
Planned maintenance can be a powerful ally in your quest to reduce costs and boost profits. Software such as Technisoft service manager, a Sage-endorsed solution, works with Sage ERP for a powerful, comprehensive system that helps you manage your business more efficiently.
BAASS Business Solutions
BAASS Business Solutions offers business intelligence solutions including Sage Intelligence, Sage Enterprise Intelligence, BI 360 (Solver), and Technisoft service manager, as well as tools developed by BAASS. Please contact us for a consultation today on how we can help you improve business efficiency. Contact us or call 1-888-650-5544.