The Sage 500 (formerly Accpac) GL account Roll-up function creates relationships between accounts that can be used for classification, budgeting, and reporting. Creating a relationship between accounts lets you consolidate (roll-up) account balances to provide a summary balance similar to the consolidation options provided in Financial Reporter.
Once the Roll-up accounts are setup, you can quickly view roll-up balances on screen without having to generate financial statements.
Here is an example of Roll-up function,
Individual account balances view:

Roll-up account balances view:

Setting up roll-up feature is very simple. Follow these 3 steps.
1. Go to chart of accounts & double click on the header account
2. Turn on roll-up function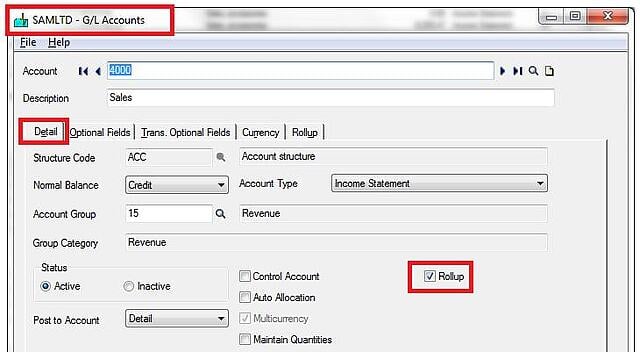 3. Go to Roll-up tab and add member accounts, Save and exit.
Contact BAASS if you need any help setting this up.
**Please note This feature is available in Sage ACCPAC 500 edition only.**
Subscribe to our newsletter for more Sage Tips & Tricks!