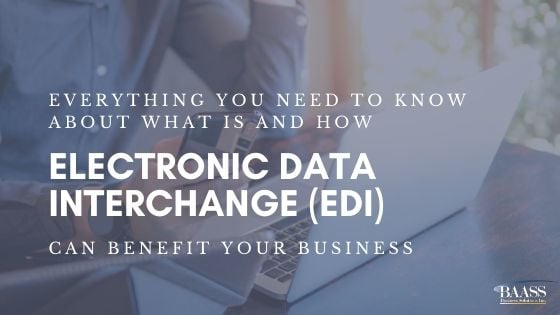 Electronic Data Interchange (EDI) is the electronic interchange of business information between businesses using a standardized format. A standard business process which allows business to business information transfer via electronic means, rather than with paper. Business entities conducting business electronically are called "trading partners".
Many business documents can be exchanged using EDI, but the two most common are purchase orders and invoices. With respect, these are two commonly used documents by using EDI you are able to cut down on time, resources and the chance for errors.

The real power of EDI is that it standardizes the information communicated in business documents, which makes a "paperless" exchange possible.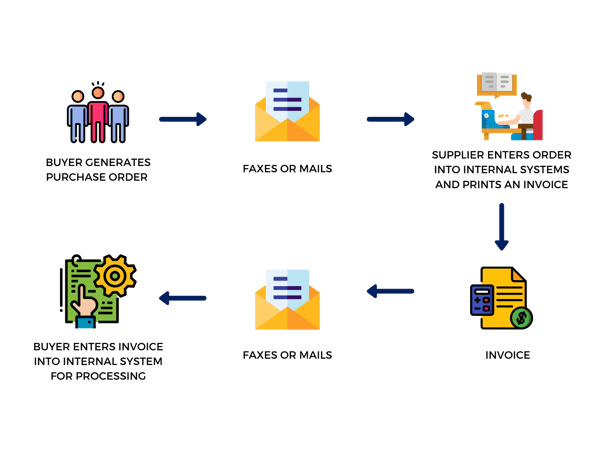 If you consider the traditional invoice process, as shown above, most companies create invoices using a computer system, print a paper copy of the invoice and mail it to the customer. Upon receipt, the customer frequently marks up the invoice and enters it into its own computer system. The entire process is nothing more than the transfer of information from your computer to the customer's computer.

EDI makes it possible to minimize or even eliminate the manual steps involved in this transfer and maximize your document processing.
What can we Integrate with EDI?

You can integrate most financial solutions with supply chain, eCommerce, distribution solutions and more. These integration's help with automating processes, keeping business transfers visible within a solution and gaining insights into partner relationships. The most common integration's we handle are with:



What are the benefits of EDI?
Increase Accuracy
Since Electronic Data Interchange is completed electronically between systems, it takes out room for potential human error. When paper is involved in a business process, things may be illegible, lost, left out, entered incorrectly or forgotten about in a step. EDI substantially improves the quality of data, in fact, case studies have found on average a 30—40% reduction in transactions with errors after implementing EDI. Moving away from a paper process also ensures that there is an electronic trail of what has been exchanged by both businesses, as well as any changes along the way.
Increase Processing Speed
Using an EDI solution can cut the time needed for your staff to handle the document exchange, freeing them to concentrate on higher-value tasks and provides them with the tools to be more productive. According to The Foresters report, by implementing EDI you can reduce the order-to-cash cycle time by more than 20%, improving business partner transactions and relationships.
Increased Savings

EDI eliminates the need for various expenses associated with a standard business process, such as paper, printing, postage, faxing, storing, filling and more. A study found EDI can help your business lower your transaction costs by at least 35%. Since this standardized process helps to increase speed and accuracy your business will also gain valuable savings, such as a shorter time spent to receive payment, limiting resources allocated to complete a task, and eliminating costly human errors, such as: illegibility, lost orders or miscommunications.



In Closing

EDI Solutions we recommend highly are Edisoft and TrueCommerce. If you are looking for more information as to how an EDI system can benefit your business, contact us today for more information.
Additional EDI Resources:
Webinars on EDI:
Learn how Sage's Cloud-Connected Supply Chain optimizes Warehouse Performance


Edisoft will describe how Sage 300 Distributors and Manufacturers in various industries have transformed their businesses by connecting departments - Accounting, Sales, EDI, Warehousing, Shipping - with Sage's Cloud-Connected Supply Chain.

Are You Ready to Do Business in Every Direction?

Join TrueCommerce in partnership with BAASS Business Solutions for this webinar to learn what changes you can make in this commerce ecosystem to best help your business grow.

Join our partner, Edisoft, to discuss their Warehouse Automation Fulfillment System (WAFS), and the key functions (Picking / Packing / PO Receiving) needed to establish an ROI for a warehouse system, and show you how to validate that ROI. Throughout the webinar, they will identify key issues that a warehouse system can solve and the efficiencies that it can provide.