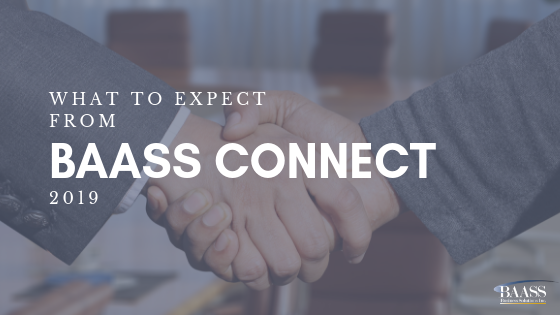 BAASS Connect is back for another year, and it's happening this November. This event strives to be a platform for educating and connecting individuals. With a day packed full of information, we decided to compile a list of 5 things to expect from BAASS Connect 2019:
Connecting with other Attendees/Professionals
As with any conference, BAASS Connect is a great opportunity to meet others, whether they be in your industry or not. Remember to bring business cards to pass on to the individuals that you meet! Connecting and following up with the people that you meet is a great way to expand your reach and knowledge. Remember, even if you and another individual hold the same position, you may have different insights to bring to the table. The opportunities to learn at BAASS Connect do not stop only at the presentations - it extends to the people who sit around you too.
At BAASS Connect, you will find numerous exhibitors. Our trusted partners will also have a dedicated session to share a few examples of how they helped a specific company. This is a great opportunity to hear from our trusted partners, and gain some of their expertise. Plus, find a potential solution to a challenge your organization is facing.
Get ready for a variety of presentations to learn from! BAASS Connect will feature presentations under 3 tracks for the second half of the day - collaborate, innovate, and educate. Look out for sessions about BI, being future-ready, business trends, and more. Our aim is to educate you at BAASS Connect by providing you with relevant information and answering your questions. Bonus, our Product Specialists will be present, feel free to chat with them and ask any questions that you may have!
This year, we have 3 main tracks: Collaborate, Innovate, and Educate. Expect to find a variety of presentations, and pick a track of interest! No worries, there is no need to commit to one track. Feel free to explore to your heart's content and check out sessions in other tracks. For a full agenda overview of the event day, check out the BAASS Connect website.
Are you looking to get your CPA designation? BAASS Connect is a great opportunity to grab your development hours for your designation. You will receive an Attendance Certificate for the day. To receive your hours, keep an eye out for a survey following the event. Upon completion of this survey, you will get your hours within a few weeks.
Not registered for BAASS Connect yet? Be sure to visit the BAASS Connect website to grab a ticket or to get more information. BAASS Connect will be hosted in 5 locations this year across Canada: Halifax, London, Burlington, Toronto, and Vancouver. Find one near you, and we hope to see you at BAASS Connect 2019!