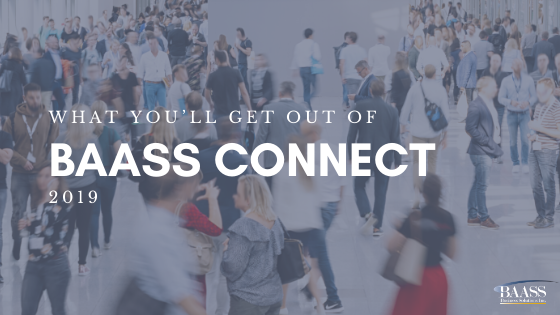 BAASS Connect 2019 is approaching - have you registered yet? If you're still on the fence about attending the event, look no further. BAASS Connect is packed full of applicable information, regardless of your industry, field, or position. If you're in sales, marketing, customer service, or in your organization's C-Suite, look below to see what you can gain from BAASS Connect!
Sales
Are you in sales? Expect to find various informative presentations as to how you can effectively manage and track key sales opportunities, forecast sales with higher accuracy, increase visibility on customer interaction between multiple departments, and more!
Marketing
From a marketing perspective, you will gain insights on how to segment your customers more efficiently, track marketing campaign performances, identify and target strong leads, and more.
Customer Service
Equip yourself with software recommendations and add on tools to better serve your customers through optimizing your Order Entry Process, providing a self-service web portal, integrated E-commerce and much more. Plus you can learn how to efficiently navigate through your ERP solution and access information at your fingertip.
C-Suite
As a C-Suite professional your time is in high demand and your schedules can become full with meetings quickly. At the event you will learn about solutions that can make your day to day work life easier. You will have the ability to discuss with peers on how they manage certain operational challenges and how you can make small tweaks with large positive impacts. Plus you will be able to increase your knowledge on integration options and solutions.
Finance
We understand as a Controller you need to have a complete picture of the accounting for your organization. But you may face many hurdles such as a distributed workforce, changing business models, heightened reporting requirements and new responsibilities as technology changes. This event will pull back the curtain and provide insight for best practices, how to successfully implement an ERP solution, learn about available tools to streamline your operations and much more.
General Reasons
Join us to take advantage of training that will sharpen your technical skills and expand your business prowess. You will be able to discover a wide range of products and services from Sage and our Authorized Development Partners that you can leverage to achieve your strategic business objectives. Plus you can earn up to 7 hours for Professional Development credits and receive a certificate of attendance.
Not registered for BAASS Connect yet? There is still time to register. BAASS Connect will be hosted in 5 locations this year across Canada: Halifax, London, Burlington, Toronto, and Vancouver. Find one near you, and we hope to see you at BAASS Connect 2019!