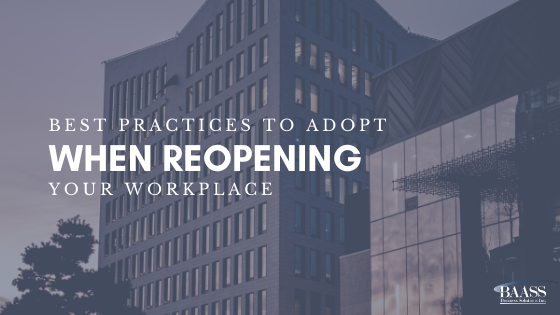 As we progress through the COVID-19 pandemic, an increasing number of businesses are beginning to ease their restrictions and open up the economy. Although there were a number of essential services that remained open to the public over the last few months, many workplaces have transitioned to having their employees working remotely; some even temporarily closed.
With more organizations being permitted to reopen in times of such uncertainty, we decided to compile a list of some best practices to adopt during this time. Do make sure to follow any local, regional or federal rules outlined by your department of health.
Transparent and Continual Communication

Similar to a mere few months ago when businesses were being asked to close up, it's important to maintain transparent communications with employees and patrons. With the remaining uncertainty, employers should continue to communicate with their stakeholders regarding updates, news, announcements, and more. Keep in mind that reopenings may occur even as COVID-19 cases remain in the surrounding communities; businesses should recognize that there may be existing anxieties and concerns about returning back to the workplace by employees. Ensuring there is adequate communication about new procedures and processes that will be implemented in the workplace, can help ease the minds of those returning to work, or those returning as customers.
Phased Reopening

As businesses are allowed to ease back into operations, many are taking precautions during this process. As opposed to having everyone come into the workplace all at once, employers should adopt a phased approach. This will allow employees to adjust to new operational processes or make necessary arrangements at home prior to returning to work. It is important for businesses to be flexible and recognize their workers who may be more susceptible to the virus or reside with people that are dependent on them, whether it be children or seniors. With this phased approach, businesses can offer a form of reassurance for those who are unable to return to work immediately. Furthermore, with businesses operating at lower capacities, there are reduced rates of virus transmissions. Using a phased approach to reopening may help keep your region's virus cases lower.


Revise Business Processes

As you may notice, the majority of businesses reopening are unable to resume operations as normal. This process of opening businesses once again is mostly accompanied by certain measures that need to be implemented: operating at lower capacities, maintaining physical distancing of at least 2 metres between individuals, increased sanitizing processes, requirements of wearing masks, having temperature checks at the door, encouraging cash-less payment, and more. Of course, this looks different for every business as circumstances vary from region to region, as well as for different industries.

For guidance or tips about COVID-19 and Ontario workplaces in various sectors, refer to this page.

For instance, a business may need to reconsider their office space and seating areas for staff to allow for adequate distancing and restrict access to any common areas. It's important to be flexible and take extra precautions to reduce any risks of spreading the virus further through the revision of certain business processes.


Contingency Plan

If your business lacked an adequate contingency plan prior to the pandemic, now is the time to sit down and create one, in the event another may occur in the future. Be mindful that even if you had one in place, it is also an appropriate time to review it and make any necessary changes -- reflect on things you may have learned throughout this pandemic, which can help refine your contingency plan! While events, such as the COVID-19 pandemic, can be unprecedented, your business will be more prepared to transition and alter operations with a plan in place.
Conclusion
While there is no one-size-fits-all plan for reopening, it's important to consider various stakeholders during this process. It is a difficult and uncertain time as businesses have to adapt to new norms and local regulations. By exercising flexibility and caution, employers can help their employees transition back to the workplace. Lastly, be sure to tune into your local outlets for updated information about the virus or regulatory changes to ensure that you are complying with guidelines.
---
Looking for instructions for your province reopening plans? Follow the applicable link below:
Newfoundland and Labrador
Learn how you can leverage your CRM solution during COVID-19.