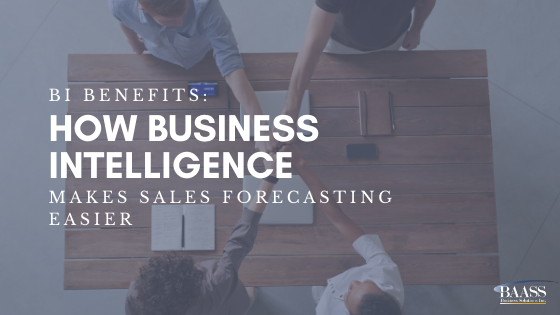 Business intelligence software can improve many aspects of your business in a variety of ways including insights, automation and machine learning. One area where BI makes forecasting easier is within the sales department.
This is accomplished by utilizing the real-time raw data derived from multiple areas in your company. Business intelligence software can use both current and historical sales data to provide accurate sales forecasts; facilitating predictive analytics and data-driven decisions.
In this blog, we will discuss a few of the benefits BI tools offer to enable businesses and simplify the forecasting process.

Blog: What is Business Intelligence?
The Importance of Accurate Data for Sales Forecasting
Accurate data is essential for sound sales forecasting, regardless of the forecasting method. Your sales reps make their strategies and plans based on analyzed data and sales forecasts. They also use this forecast-based data to make more informed business decisions. For example, if they see that one area of sales is weak, they'll put more effort into reaching targets in those areas.
If those data analytics are correct, your business will be able to use these insights to implement strategies and processes to achieve company goals. If the data is incorrect, valuable time and effort may be wasted on unproductive activities.
Simplifying Complex Data
Another benefit of business intelligence tools for sales forecasting is making complex data easier to understand for business users. Data visualization, or transforming data into graphs, charts, and visual representations, can make even the most complex production and sales forecasts easier to analyze, interpret and strategize. This in turn leads to better understanding and simplified forecasting.
Simplified data is actionable data.
Data itself can be intimidating, especially for people without a strong background in data analysis. When data is made easier to understand, it can be used by everyone in the organization to make better decisions.
Sales Forecasting and Supply Chain Management
Sales forecasting also impacts supply chain management. When you can accurately forecast sales, you can use that data to establish manufacturing quotas and supply chain needs. Raw materials and goods can then be ordered to meet expected demand. With the right BI platform and data, such needs are easier to predict thanks to better sales forecasting.
Improved supply chain management also leads to improved inventory control. Inventory often uses up a considerable amount of capital in a company and data warehouse. Keeping inventory lean is often a goal that's hard to achieve since lean inventory can backfire into no sales if a company is unable to fulfill a customer's request. With better sales forecasting, you can keep popular products in stock and manage reorders promptly; whether that be on a weekly, monthly or quarterly basis.
Improved Visibility Throughout the Organization
BI software not only improves your sales forecasts but also improves visibility throughout the company. The sales team's efforts can be viewed by managers in marketing, product development and other departments. The sales team can also view information from other parts of the company to answer customer questions and act to meet customer demand. Improved visibility benefits all parts of your organization and customer satisfaction overall.
Your company's business intelligence system impacts many parts of the organization. From sales and marketing to inventory management, a good BI system can improve productivity and profits.
Business Systems and Solutions from BAASS Business Solutions, Inc.
Choosing the right system starts with choosing the right software vendor. With a good vendor by your side, you'll have a knowledgeable partner who can help you find the right software for your needs. BAASS Business Solutions offers expert insight, knowledgeable people, and business software that will help you be more productive and effective.
Learn more about our development tool: WisePlanner Sales Forecasting
For more information, contact us