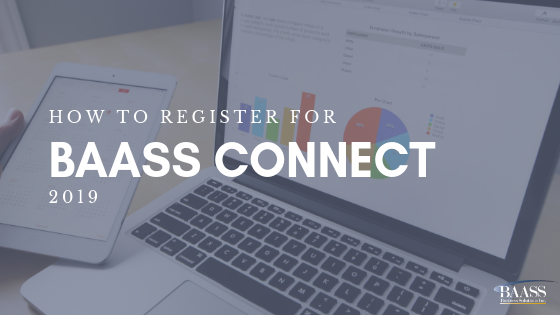 As BAASS Connect 2019 approaches, you may be wondering about how you can get your hands on some tickets to the event! Here are all your possible ways you can purchase your tickets in one central location. Take a look at 7 ways you can register for BAASS Connect:
Visit the BAASS Connect 2019 website for everything you need to know about this year's event. You can find information about the locations, dates, speakers, and more. Feel free to look under each of our 4 subheadings (Toronto, Burlington, London, Vancouver) for more information about the specific location. At the top right corner of the screen, you'll find the register button. A click on that button will lead you to your tickets to BAASS Connect 2019. At the bottom of our BAASS Connect website, you'll find a section where you can contact us for more information about the event- feel free to do so!
We're on social media! Do you follow us? Find us on Facebook, Twitter, LinkedIn, Instagram, and YouTube. As BAASS Connect 2019 approaches, we will be actively sharing information regarding the event under our event hashtag: #BAASSConnect. Look up this hashtag on the platform of your choice to filter for our BAASS Connect related posts.
Hey CCM members! Being a CCM member has its perks, including up to 5 complimentary passes to this year's BAASS Connect, depending on your plan. Our CCM members will be receiving a special email outlining everything that is included. This information can also be found on our BAASS Connect 2019 website. Look forward to exclusive VIP sessions, VIP lunch, and so much more.
Have you subscribed to our mailing list? If not, don't worry! You can subscribe at the bottom of our website. Our email communications are a great way to receive centralized updates and information about BAASS Connect, whether it be about FAQs or special blog posts. For those who are already subscribed, be sure to keep an eye out for promotional codes that may be going out- you may be eligible for one!
Do you know your organization's account manager at BAASS? Don't hesitate to reach out for information concerning your registration for BAASS Connect 2019. Keep in mind that if you're a CCM member, you have up to 5 passes included to the event; for more information about getting your free CCM access, speak with your account manager.
Already speaking with our support desk? Feel free to drop them a question about registering for BAASS Connect 2019.
Call us! Don't hesitate to call us at 1-888-650-5544 . Our customer service representatives will be able to answer your questions about registering for BAASS Connect and direct you to any useful resources.
After registering, take a look at our website for more information about the schedule, speakers, and venue for the location that you are attending. Don't hesitate to reach out to us for more information about BAASS Connect 2019. We hope to see you there!