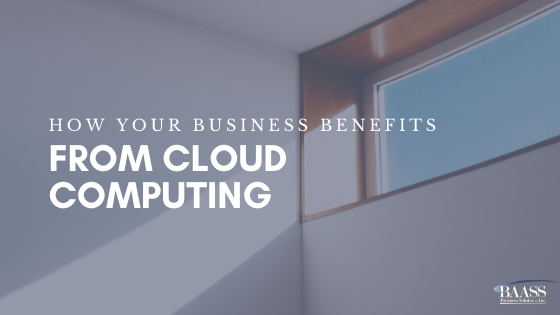 Changing from seat-based legacy systems to cloud-based systems can be challenging. Some employees may not want to shift to the new systems. Others fear that they may lose their status in the company as the 'answer person' for all the old system's quirks, making them jealously guard the legacy system as if it were a pet to be kept on. But once people understand the many benefits of cloud computing, they may be happy to embrace cloud-based applications and move on to the new system.
Keep reading to learn more about the benefits and competitive advantages that can be reaped from adopting cloud computing at your organization!
About Cloud Computing
Typically offered as a Software as a Service (SaaS), your cloud computing services will be hosted by a vendor at one of their data centers. These cloud servers are housed in data centers that can be found all over the world.
This alleviates the need to maintain hardware and software or cloud infrastructure on-site at your organization. As such, these responsibilities will no longer fall on your IT team, but rather your vendor. In addition, data security and disaster recovery will and can be handled by your vendor. Your business can easily access your data in your cloud environment, as long as you have an internet connection.
With unlimited storage capacity and automatic system updates, you are equipped with a solution that can scale with your organization. On top of the many features and options that come with the cloud, there are different types of cloud.
Private Cloud: A server, data center, or distributed network wholly dedicated to just your organization. It often provides the best balance of security, customization, and performance for your unique needs
Public Cloud: A service run by an external vendor that may include servers in one or multiple data centers. Public clouds are shared by multiple businesses and can often be the most cost-effective and low-maintenance option. There are a variety of solutions and products that are supported and hosted on public cloud services.
Hybrid Cloud: Combines public and private clouds, sometimes including on-premise legacy servers. This option offers businesses the flexibility to maximize the benefits of both public and private cloud environments.
Multi-Cloud: The type of cloud deployment that involves using multiple public clouds. This option enables you to line up your business requirements with the best provider for each individual function.
Learn More: Is the Cloud Right for You? Consider these 5 Things
Never Lose Data
"Charles" was rushing to the airport to travel to an important meeting when he tripped on the sidewalk getting out of the cab and dropped his briefcase. Unknown to him, the memory stick he had in his briefcase tumbled into the gutter, where it was soon run over by an Uber rushing to the airport to deliver another harried business person. Charles didn't realize until he reached his destination that valuable data wasn't just lost - it was gone forever.
With cloud-based systems, you'll never worry about losing data again. Upload your data to the cloud in Toronto, fly to New York for an important meeting, and access it as easily as if you were in your office at home. All you need is an internet connection, your username, and password, and you can find, access, and retrieve data quickly.
Memory sticks can be lost, and computers can break down. People forget to back up vital data. The cloud does it all for you so you don't have to worry about your sensitive information being lost or difficult to access.
Collaborate Easily
Some workplaces are moving to flexible work arrangements or environments. It's not uncommon today to find entire departments outsourced to third parties or to hire a temp, consultant, or freelancer who you'll never meet in person but who provides outstanding work. These people may be scattered all over the country or the world, but technology connects them in revolutionary ways. Skype, Trello, Slack, social media and cell phones make it easy to hire the best no matter where they live.
But that leads to some challenges when it comes to sharing data on legacy systems. Older, site-based systems do not allow for internet access. You must be physically present to log into the system.
New, cloud-based systems enable anyone, anywhere with access permission to log onto the system. Collaborate and share data easily no matter where you and your teamwork. Cloud systems make it seem as if you're all in the room together working on the same document.
Peace of Mind
Unfortunately, Charles had a rough day; not only did the memory stick fall out of his briefcase at the airport, but his laptop was stolen from his hotel room (note to self: don't travel with Charles.)
Losing your laptop, with all of its data and information, is trouble enough, but compound that with software loaded onto the laptop that you've just lost access to and you've got heaps of trouble. With cloud systems, it doesn't matter what device you're using to access your software. The software is located on the cloud, not on your laptop, desktop, or smartphone, so you can access it anywhere, anytime.
It's peace of mind for both your business software and data.
Read More: Business Challenges Cloud Can Help Overcome
BAASS Business Solutions: Improving Efficiency for Profitability
Experience cost savings and gain a competitive edge by adopting cloud technology at your organization.
BAASS Business Solutions partners with clients to help them improve efficiencies for greater profitability. We do this by matching business software solutions, including cloud-based solutions, to your business needs. The results offer powerful productivity enhancement, time and money-saving results, better data and more. For more information, watch this webinar recording on cloud accounting or contact us about our cloud-based services.