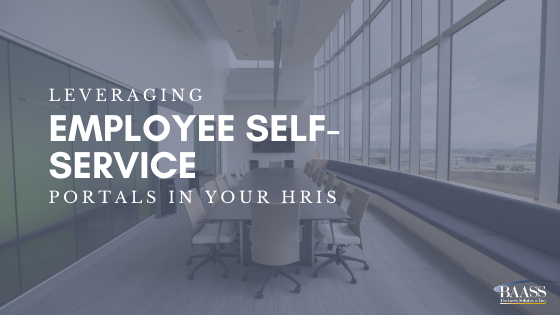 One of the attractive features of a human resource information system (HRIS) is the employee self-service portal. Such portals provide employees and their managers with access to select information such as their emergency contacts, job information, events, and skills. An employee can usually view and update their address and emergency contacts, view medical and other benefits and savings plans and even access their pay advices in some cases. Some portals allow staff to manage their time off with requests and approvals and provide access to balances of their vacation and sick plans. An employee portal should be the one website that employees use to access links to other web programs and company policies.
Many companies find to their surprise that employees continue to call the human resources office even after the launch of sophisticated HRIS platforms with self-service portals build in. If you find that the human resources manager is still the 'go to' person even when the self-service portal in an HRIS is activated, it's time to assess the situation.
Why Aren't Employees Using the Self-Service Features?
The first question to answer is "why": why aren't employees using the self-service portal? Your own team's answers may vary, and it is helpful to ask them directly why they continue to call the HR department when they now have access to the information directly. A few common reasons include:
They don't know the system

: Although employees are comfortable accessing all sorts of information online today, they may remain uncomfortable navigating an HRIS on their own. They may be uncertain about what they can view, or how to find information they need. They may also mistrust the accuracy of the information itself.

They forget it exists:

Change can be difficult to accept. People used to managing their benefits through simple phone calls or visits to the HR department may find it difficult to change to the automated system.

It's easier

: For some, it's easier to continue asking someone in HR for the information rather than finding it themselves.
To help employees through the transition to the HRIS, incorporate as many of these suggestions as makes sense:
Organize training sessions to demonstrate the new self-service portal. Make sure that the training session includes hands-on use and navigation of the system so that employees learn by doing, not just listening to someone talk about the new system.

Offer "open office" hours when employees can ask questions about their benefits, but limit these hours. Guide people to the self-service portal if they approach human resources during other times outside of the 'open office' hours.

Guide employees to the self-service portal whenever possible. It takes tact and finesse to do this without being too brusque with them, but you may need to use some "tough love" to get people to follow procedures.
Check Your HRMS: Is It Doing What People Need It to Do?
If none of these tips help, check your HRIS itself. Make sure that the self-service portal does, in fact, do what it purports to do. All of the information in the system should be complete and up-to-date. If employees find the information is incorrect or out dated, they will lose faith in the system.
Develop a simple system for reporting problems in the new system. Create a form so that people can easily report problems and include all of the pertinent information for problem-solving.
Lastly, talk to your HRIS vendor if you have any ongoing issues or problems. Your HRIS consultant or vendor can help you trouble-shoot any vexing issues that may be separating your team from successful implementation and use of the self-service portal.
Are you planning an HRIS implementation?
BAASS offers HRIS systems that help companies manage human resources tasks and information effectively and efficiently. We uncover your company's needs and match solutions to your challenges for an effective, comprehensive solution. Learn more about BAASS HRIS solutions.