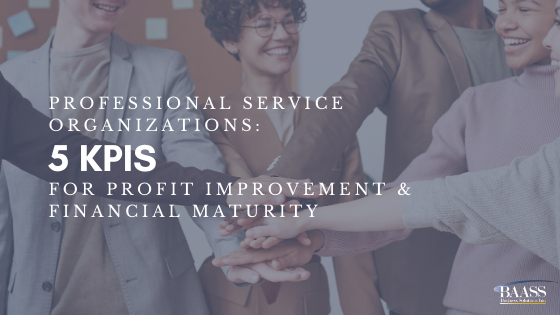 Are you a professional services executive struggling to determine how to help your Professional Services Organization (PSO) improve profitability?
There are several factors that could be impeding your efforts, such as expansion costs (compensation, facilities management), adjusting to regulations in new environments, and billing complications. According to a study by SPI Research, "Five Key Performance Indicators for Greater Financial Success," in order to achieve profitable growth, PSOs must focus on "maturing" their people, processes and systems. PSOs are often met with hurdles that can hinder their profitability, such as increasingly tough client demands for better service and value, dispersed allocation of project resources, and inconsistent methods of billing and invoicing.
In order for you to truly focus on improving profits, your firm must be able to overcome the most common challenges highlighted by five key performance indicators (KPIs). According to SPI Research, these KPIs are: Annual Revenue per Billable Consultant, Annual Revenue per Employee, Billable Utilization, Project Overrun, and Project Margin.
Five KPIs to Help Your Firm Improve Profitability
To determine the Annual Revenue per Billable Consultant, divide the organization's total revenue by the number of consultants – this ratio shows the amount of profit each consultant contributes. A strong project management system has the flexibility to provide a report combines the Annual Revenue per Billable Consultant with labour costs and to recommend real rates to be optimized with hours worked.
Similar to Annual Revenue per Billable Consultant, Annual Revenue per Employee is the total revenue divided by the total number of employees – this number will help you understand how well the organization is performing in terms of overall profitability and in turn, financial health. Evaluating this ratio with utilization and billing rates yields information to more effectively manage your business.
Billable Utilization is one of the most integral KPIs to measure profitability. This ratio will help your organization determine whether to expand or condense your workforce. Calculate this ratio by dividing total billable hours by 2,000 (the assumed number of hours per year). For true results, the SPI report notes that it is important to analyse these numbers beside the size of your sales pipeline and backlog.
Project Overrun, either in material costs or time, directly affects a PSO's profits because it is from profits that the extra time and money will be extracted. Project overruns can also serve as a roadblock for other projects that are on your schedule but cannot yet be started due to the over-budget project that is consuming more time than planned.
The most important KPI is Project Margin – calculated as the percentage of revenue left after completing a project and subtracting project delivery costs. SPI's research indicates that a service organization may endure significant periods of struggle if margins fall below 40%, which can hinder future growth.