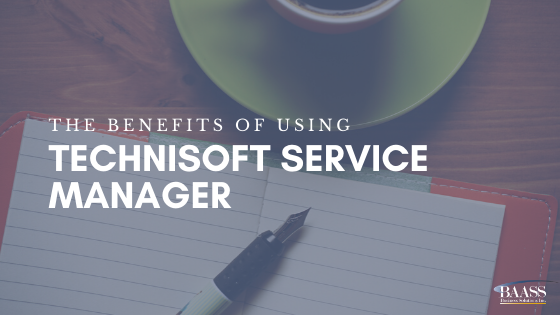 As a company, it is crucial to meet the business needs that are delivered in accordance with business requirements and managing the service cycle. That's why having a service manager implemented can assist your business with the day-to-day activities directed by policies, organized and structured processes.
This tool helps simplify common tasks relating to field service, contracting, job cost management or general equipment servicing. The multi-module management service system designed by Technisoft can be fully integrated to Sage 300 seamlessly. Therefore, providing the support to streamline business processes, improve efficiencies and reduce overhead costs.
If your company services or maintains equipment either as a reseller or as a manufacturer then your daily activities probably are to:
Enter service jobs for invoicing

Track and manage preventive maintenance schedules

Enter quotations

Provide product support, service, and maintenance to your customers

Schedule employees and resources to jobs and track work in progress

Maintain inventory of parts, spares, and kits

Process warranty claims and manage returns authorizations (RAs)

Monitor job budgets and profitability
A good service and maintenance software application saves you time, money and reduces employee frustration levels by eliminating the need for many of your day-to-day manual processes.
Technisoft Service Manager is a multi-award-winning service and maintenance software solution for Service, Job Cost, and Equipment Maintenance industries. Technisoft Service Manager links the different aspects of the Service process including:
Managing job costing, preventative maintenance, scheduling or resources, field service, and general equipment servicing

Equipment transfers, warranty, rental, serial and lot tracking

Standard and WIP accounting

Profit analysis

General, recurring and consolidated invoicing

Issue parts, services, travel and contractor services

Entering time entries, labour tracking and resource utilization

PO's, requisitions, authorization workflow

Service, Meter and warranty agreements

Multi-currency
Ultimately, Technisoft Service Manager is the front end product that will drive your business on a daily basis to support in the preparing, monitoring and consolidating of the products and services that your company offers.
If you are currently using a manual processing system or have outgrown your current service and maintenance software, please feel free to contact us.
At BAASS Business Solutions, we seek to help our customers improve processes, save time and money, reduce employee frustration. We take the time to understand the needs of your business and help you select software that will improve efficiencies, service, and profitability. For more information contact us.