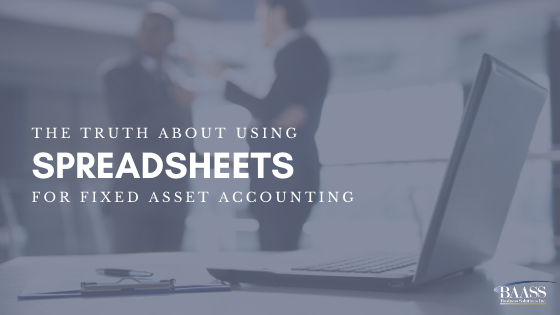 Do you still use spreadsheets to track and account for your fixed assets? Did you know that relying on spreadsheets for fixed asset accounting can actually do more harm than good to your business?
Spreadsheets have long been used by businesses to track and report on information and – for the most part – they are an effective tool. When used for fixed asset management, however, spreadsheets can threaten the accuracy of financial reports, putting the business at risk for tax audits and jeopardizing the bottom line. For many businesses, fixed assets are the largest line item of the balance sheet, and more often than not, they are the most error-ridden.
Businesses who rely on spreadsheets to manage their fixed assets often sell themselves short, reporting inaccurate depreciation numbers and cheating themselves out of tax-savings in depreciation deductions. In fact, one of the most common challenges businesses face in terms of fixed asset management is calculating depreciation. Companies who rely on spreadsheets to report on fixed assets and track depreciation find themselves limited in their ability to create the reports they need. Spreadsheets are prone to many problems, including:
Inability to attach any supporting information (such as pictures) about an asset
Lack of audit trails and history
Inability to easily change depreciation methods
Difficulty exchanging data and information with other business applications
The lack of incorporation of changes to tax rules and regulations
Limited internal control features
Failure to integrate with an inventory solution
The Benefits of Replacing Spreadsheets with Fixed Asset Management Software
If the challenges listed above sound familiar, it is time to trade in your spreadsheets for a more specialized solution: fixed asset management software. Designed to automate the fixed asset tracking and reporting process, fixed asset management software can restore the accuracy of your financial reports and improve your bottom line. By implementing a fixed asset management solution, companies can achieve many benefits, including:
Improved accuracy
Reporting compliance
Time savings
Financial savings
Lower risk of theft and fraud
Discover the benefits of sound fixed assets management and regain confidence in your financial reporting.