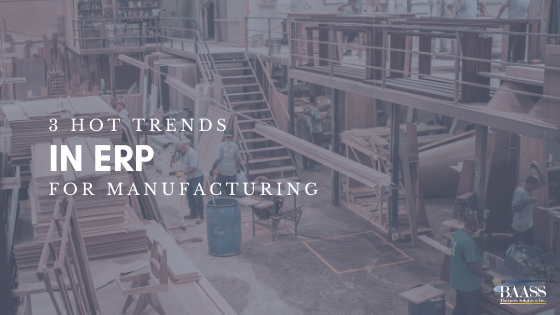 ERP or enterprise resource planning adds considerable value to manufacturing companies. With the click of a button, they can get access to instant, real-time reports on all facets of their business. From operations to warehouse management, the ERP system of today offers a view into the heart of the business, providing vital data for strategic planning and implementation.
But as with all things technological, ERP is constantly changing. We thought you might enjoy this sneak peek into the trends of the future for ERP. What can manufacturers expect from the world of ERP where it meets technology, and how will the technology of the future blend of current ERP systems to create bigger, better enterprise resource planning?
ERP meets IoT: IoT, or the Internet of Things, is the interconnection of data from devices that normally would remain disconnected from the internet. With IoT, companies can gain valuable insights into how their products perform, how they are used, and where they are used. Companies that connect household items to the IoT, for example, receive error reports when washing machines malfunction, energy usage reports from HVAC systems, and updates from other electronic components connected to the Internet. The IoT provides valuable data, but how is it used? That's where ERP comes into the picture. The latest trend is to blend IoT data with ERP systems to add valuable information to the ERP big picture. For example, shipments of raw materials can be tagged with devices that report transportation time and current location. Manufacturers can then use this data to better plan production schedules and plant locations. With all of this data, an ERP system will eventually be essential for manufacturers to run efficient businesses.
Big data analytics for small companies: In past years, the only companies who benefited from big data were large companies with the ability to build their own hardware infrastructure to manage data. Cloud computing has made it possible for companies of all sizes to manage more data faster and better than ever before. Greater access to powerful analytical tools enables companies of all sizes to benefit from the new data derived from the IoT and from other technology such as CRM systems, warehouse technology and more.
Wearable technology: We're all familiar with watches that not only tell time but track heart rate and count steps. Fitness trackers are a common wearable technology that many people already own and use. But what about Google Glasses, or virtual reality headsets that enable you to see 3D reality beamed from somewhere else? These technologies are being used for entertainment but have also made inroads into medicine, where they can be used for consultations and to view surgeries for residents in training. For manufacturing, wearable technology may be used during assembly to run robotics that can manipulate tiny objects too small for human hands. Wearable technology may also integrate with ERP eventually to produce data feeds from wearable technology throughout the manufacturing process.
The future of ERP holds many promising developments. These and other technologies improve efficiency and enable business owners to make better strategic decisions based on accurate data. The time is right to add a new cloud-based ERP system to your company. These systems offer excellent real-time synchronization of data, great reporting capabilities, and the flexibility you need to scale up as your business grows.
At BAASS Business Solutions, we seek to help our customers improve processes to become more profitable. We take the time to understand the needs of your business and help you select software that will improve efficiencies, service, and profitability. For more information, contact us.
Read about how Norcast Castings gets the most out of their Sage 300 ERP.