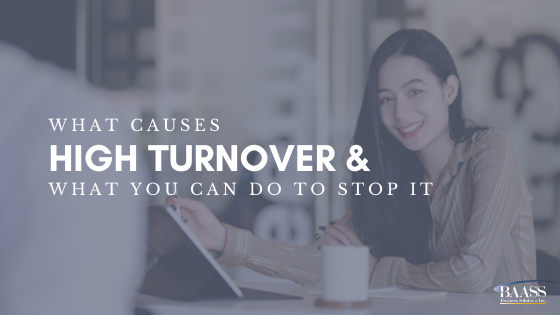 A new Human Resources Information System (HRIS) can yield important insights into your company's human resources needs. One such need that may be revealed is high turnover. The cost of employee turnover is staggering, not just in terms of recruiting and hiring new workers, but in time lost to candidate searches and interviews, lost productivity, and lost knowledge as workers exit without transferring information to newcomers. High turnover also hurts employee morale.
So what can you do to stop high turnover? Looking over the reports from your HRMS system, it may seem as if it's impossible to stem the tide of high employee turnover. Knowing what causes high employee turnover can lead you to steps to prevent it.
The Five Main Causes of High Employee Turnover
There are many reasons why people leave jobs, but these five reasons are some of the more frequently cited ones. They are also situations that you can change in your workplace. Monitoring exit interview data in your HRMS system can help you identify some of the common reasons at your business why employees are leaving.
Job didn't meet expectations: Many people leave because the job wasn't what they expected. This can result from a misalignment of expectations, either from an employee who views the new job differently than it is presented or from employers selling a job as something it's not.
Poor work-life balance: Employers expect their employees to work hard. When work intrudes on evenings, weekends, holidays and vacations, something must give. For most employees, that means finding another job rather than put in another 60-hour week.
Not enough feedback or only negative feedback: If workers never hear that they are valued, they'll seek value elsewhere with another employee. Similarly, if all your managers do is complain about their staff or criticize workers without any praise, people tune them out and eventually leave.
Poor management: Rude managers, critical managers, or lax managers are often to blame for staff turnover rates. Managers who know of problems yet do not address them, managers who show favoritism, and managers who give unclear directions are also cited as reasons for turnover.
Frozen wages: Companies who promise raises and bonuses, then go back on their word, will not retain employees. Wage freezes and irregular salary reviews are another reason people leave jobs.
Fixing the Issues
All issues listed above are in your control to fix or change. With some adjustments, you can turn around high turnover rates over time and improve employee retention for better productivity.
Set and manage expectations: Make sure that your job descriptions are up to date and that hiring managers and anyone interviewing candidates know they should be open, honest, and transparent about the job, company, and working conditions. Expectations are set through honesty and facts given to candidates during the interview process.
Allow work-life boundaries and balance: Don't intrude on your employee's personal time. Make sure that they take vacations, weekends off, and holidays. Offer flex time for employees caring for dependents so that they never have to apologize for driving Mom to the doctor or caring for a little one home sick from school. Taking the stress off of people's lives makes them happier about their workplace.
Offer plenty of feedback: Train your managers and staff to give and receive feedback. Make sure that criticism is always tempered with praise. Regular reviews, employee training, and other methods of employee motivation are important and a part of giving and receiving quality feedback to improve job satisfaction and performance.
Train your managers: Managers need training in management skills. They need to learn how to delegate fairly, provide clear directions, and manage workloads without favoritism. Rude employees must be dealt with immediately to prevent workplace issues from escalating.
Give regular reviews and raised: Rather than freeze wages, try to at least give some raise so that people don't have a financial incentive to go elsewhere. Schedule regular performance and salary review periods and make sure that salaries are both commensurate with experience and fair for the jobs and levels of employees.
Getting a new HRMS system can be an eye-opening experience. When you suddenly see the facts around employee turnover rates, it can be startling. Fortunately, if you track and measure the reasons behind the turnover, you can take steps to prevent it. It all starts with a good HRMS system.
Business Systems and Solutions from BAASS Business Solutions, Inc.
Choosing the right system starts with choosing the right software vendor. With a good vendor by your side, you'll have a knowledgeable partner who can help you find the right software for your needs. BAASS Business Solutions offers expert insight, knowledgeable people, and business software that will help you be more productive and effective.
For more information, contact us online or call 1-888-650-5544.


Read More: How to Successfully Implement HRIS