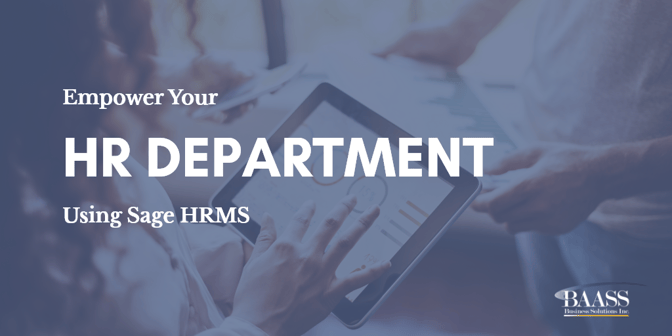 Are you spending too much time processing employee information, absence transactions and benefits calculations? Sage HRMS can help.
Developed by HR professionals for HR professionals, Sage HRMS is the most comprehensive fully customizable HR management solution available today for small and mid-sized businesses.
Sage HRMS empowers the human resources department to actively support company objectives while improving HR efficiency. Integrate and streamline your HR processes and closely monitor employee records and personnel actions, HR compliance, benefits administration, absence management, reporting (standard and custom), and data import/export actions with Sage HRMS.
The power of Sage HRMS starts with the centralized HR database - your single point of truth for all past and present employee information.
Some of the key benefits/capabilities:
Quick access to critical information
Easily view key employee information, including demographics, insurance, and savings benefits, skills, education, compensation, and employee attachments.
Time-off management
A full set of features provides for all types of time-off tracking, including vacation, sick, incident-based time off, such as jury duty, medical leave, and bereavement.
Advanced customization
Customize menus and panels, create new actions for employees, change existing actions and processes, and even augment reports and toolbars. Control how information is categorized and viewed.
Easy import/export capabilities
Select your own import/export criteria with the ability to establish reusable templates and transfer critical HR information on a routine basis, quickly and accurately
Check out this Sage HRMS Success Story: Archdiocese of Halifax-Yarmouth
When combined with optional extended solutions, Sage HRMS addresses challenges in payroll management, risk mitigation and compliance, talent management, paperless HR, employee benefits management, decision support, recruiting and on-boarding, and time and attendance management.
Looking to implement an HRIS Solution?