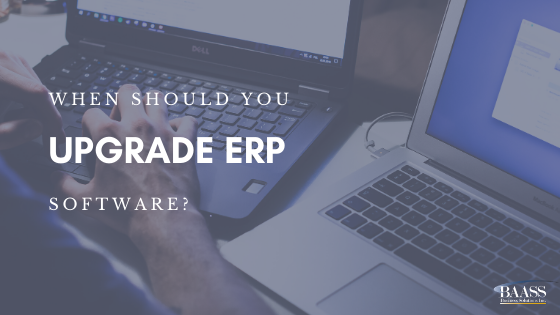 ERP (Enterprise Resource Planning) solutions have become an integral part of many organizations during its rapid evolution over the years. ERP solutions are known for their ability to integrate various functions across an organization, including sales, finance, management, and more. It helps organizations overcome a variety of business challenges. Albeit the vast array of capabilities and benefits, the implementation of an ERP solution should not mark the end of your ERP journey.
Although there is no hard and fast rule, it is important to know when it might be time to upgrade your ERP software. Explore some indicators below:
Lack of Support
With time, your ERP solution will age and new versions of your ERP software will continuously be released. Eventually, your ERP software will see diminishing levels of patches or updates being released to support your specific software version. With this comes less vendor and technical support. As expected, most software companies would rather spend their resources on maintaining the most recent versions of their ERP software, as opposed to the older editions.
Your legacy system that was once kept as is to keep costs low, can end up costing your organization even more. With an older system, there are opportunities for more downtime and performance issues that can hinder the company in terms of time and money. Due to the decrease in updates, your ERP solution may also become non-compliant with your region's regulations. In the long-run, these factors generally cause a greater cost to the company. Being noncompliant can cost your company a significant amount of money 1) if caught or 2) to ensure your information is compliant -- it may have cost less to have just upgraded your ERP software instead.
Additionally, the longer your ERP software is out-of-date, the more it will cost to have it upgraded to the latest versions. Note that more time may be required for the upgrade as well. Overall, if you're finding a lack of support offered as your ERP software ages, consider it as motivation to upgrade your ERP software. It's essential to find the balance between making the most of your ERP software and incurring extra costs for it.
Inadequate Software Performance
Like many things, you can expect newer ERP software to have more advanced features and capabilities relative to their older versions. You may consider upgrading your ERP software if you find your current version is lacking features that support your business processes.
Furthermore, as your ERP software ages, there may be fewer integration options with other software solutions or compatibility issues with newer technology. If your solutions are not working seamlessly together, they may cause inefficiencies at your organization, such as requiring more manual data entry. If you find your organization is becoming increasingly reliant on Excel spreadsheets, this can indicate that your ERP software needs upgrading to adequately serve your business processes. Keep in mind that it is possible for previous features that required customization to become standardized features in new ERP versions. Your ERP solution is meant to help your organization become more efficient by streamlining your operations and processes, rather than creating inefficiencies and challenges for your organization.
Outdated Interface
Lastly, you may slowly begin to realize that your ERP software is simply becoming outdated. One notable symbol of this is its inability to keep up with the constantly evolving workplace environment. Nowadays, more employers have turned their workplaces into more remote-friendly environments. With older ERP software, you may experience a lack of mobility and flexibility in terms of accessibility of company data.
Dated interfaces give rise to challenges in terms of user experience, especially as less people are familiar with older software as it ages. This has potential for causing further difficulties in keeping employees productive or even retaining employees in general. Not only can the outdated interface affect internal staff, but it can also hinder customer experience. For organizations who value this facet, this is a considerable factor. Instead, with an upgraded ERP software, you will find new features and interfaces which can streamline business processes. Overall, this will enhance the productivity of your employees, allowing them to do more things in less time.
Conclusion
Overall, it's important to look out for indicators at your organization which may point you towards upgrading your ERP software. Not only should you consider the short-term costs of keeping old software, but also the long-term costs. Ensure you are monitoring and gauging the priorities of your organization. In addition, keep in mind the ERP software landscape might look different than it did since the last time you upgraded or implemented your ERP solution -- you may have access to standardized features that were previously considered a luxury! The goal of an ERP solution is to streamline your business processes by integrating business functions. For more information about ERP solutions: ERP at BAASS.
Read about these Sage 300 ERP software upgrade success stories: