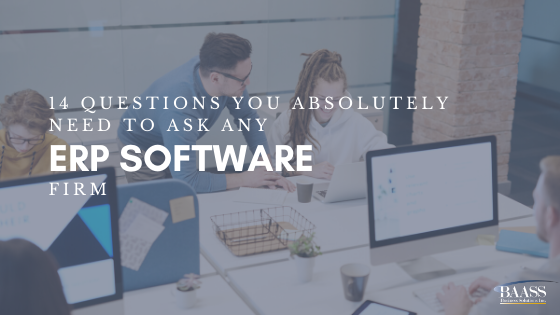 Put Your Hand Up and Ask the Right Questions!
Here at BAASS we try to be business advisors more so than software providers. With this in mind, we have come up with fourteen questions that every company considering ERP software should ask the firms that they are engaging with in the process. The questions are completely product agnostic and are designed to ensure that you ask the right questions to ensure a smooth implementation process.
This blog post has not been written to promote ourselves, but rather advise you in your journey to a successful ERP implementation.
Blog: Our Guide to Understanding, Choosing & Implementing an ERP System.
We hope these questions will help you in your search for the perfect ERP business partner.
How many successful ERP installations have you performed?
ERP implementation can be a complex and sometimes unpredictable undertaking. Any consultant you hire for the project should be well experienced with years of expertise so that they are equipped to handle any situation that may arise.
Who is your ideal customer?
ERP software is an effective way to manage your business or organization but not all solutions will be a match to your particular industry, company size, revenue, etc. Finding a consulting firm that fits your company persona is important. They should know your industry and have worked with companies similar to yours in order to provide you the most effective software solution possible.
Describe your consulting resources. How many full-time consultants do you employ, and are they qualified?
A consulting firm is only as good as its consultants. Be sure to inquire about your consultants' qualifications and years of technical and accounting experience. Sometimes you can request for either a junior or a senior consultant. Price may vary if this option is available to you. Ensure the firm has enough bandwidth to allow them to respond to your needs on a timely basis.
How will I know if the software will fit my business requirements?
We suggest that you have a needs analysis performed first. Before you look at any software solutions you must first understand where the issues lie. Sometimes you may not even realize areas that could be more effective. For this process, allow an outside consultant to interview your employees. This will help you discover where time could be saved and effectiveness could be improved.
What's your guarantee/warranty?
A guarantee/warranty will show you that the consultants are confident in their solutions and therefore will give you the confidence to work with them.
What kind of training and support do you offer?
Implementing the software is just one step of the process. You will need full training and ongoing support. You should ensure that the consultants you work with will provide full support for Go-Live and for the following 3 months or more. Make sure you have options available to access the consultants' expertise and support on an ongoing basis. Full end-user training should be available through remote, on-site and classroom sessions so that your employees are confident to use the software after the project has been completed.
How is the software licensed?
Ask if the software is licensed per user, per named user, by module, and are there monthly, quarterly or annual maintenance fees.
How do you ensure customer satisfaction?
Customer Satisfaction should be the main priority for any consulting firm that you hire. There should be ongoing and open communication between you and the consultant to ensure that the software solution has been designed to your specific requirements and that the project is on-time and on budget. The firm you choose should measure customer satisfaction regularly.
What do you do to ensure each project comes in on time and on budget?
ERP implementation is infamous for going over budget. Gartner says that 57% of all ERP projects cost 189% of the original estimate. We recommend that you work with a firm that believes in fixed-fee billing. You will know the exact price of the project before you start, guaranteed. This will eliminate any unnecessary stress and you can focus on ensuring the software is exactly to your requirements. Ask about their implementation process. Do they offer project management?
Is the software customizable and can it be integrated with my other systems?
A consulting firm may offer excellent, full-featured business management software. However, many times the software's functionality provides only part of the solution. Often one or two extra functions or slight changes to the way the software works can provide a 100% fit for clients and their business. The best part about ERP software is the integration functionality between other programs. Be sure to ask about integration capability.
Can you give me references?
Always ask for references. A company can say that they are the best because they believe that they are. The only way to know for sure is to hear it from other peoples' experiences. If a company is confident in their solutions and services they will not hesitate to give you multiple references. Preferably ask for a reference from a company similar to yours (Industry, size, revenue, employees, etc).
Are you and your software recognized in your industry?
Do they have any awards from vendors or independent awards? Do they have a membership with any industry associations?
How do you separate your firm from your competition?
Do they offer the lowest price, best guarantee, largest team, vertical niche, best service? What is more important to you and your firm?
How does your software support the extended enterprise?
The software you select should not just focus on accounting. In the future you may require more, like a CRM system or an HR management system or a webstore. The software you choose now should be able to support those features if added at a later date.
Check out this ERP Success Story: